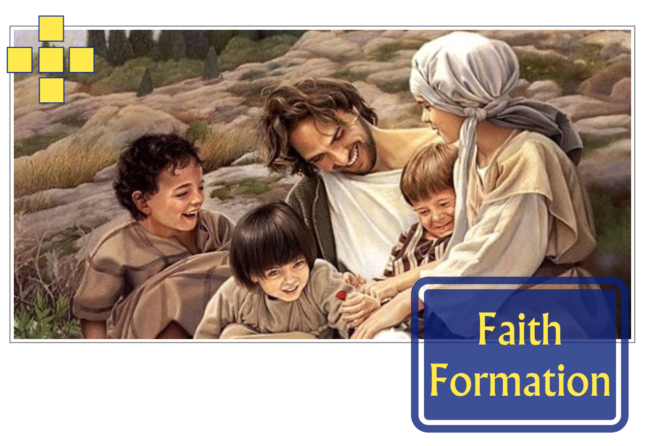 Catholic education is central to the mission of the Church and depends on the participation and cooperation of everyone concerned. The Church must provide people with experiences of the sacred — through authentic Catholic doctrine and worship — and help them to identify the sacred in their own lives.
Religious education means more than passing on facts and information. It is an encounter with Jesus. For both teachers and students it is a way of Christian witness. Our teachers and staff are considered witnesses to the faith and models of Christian living.
Religion is an integral part of our curriculum being taught formally each day and is also made an informal part of our studies and daily interactions.
Each year the Staff and Faculty of Holy Family School, as well as those men and women involved with various Holy Family Church ministries, attend a four day event held by the Archdiocese of Los Angeles called LOS ANGELES RELIGIOUS EDUCATION CONGRESS or ReCongress for short.
Students in Grade 2 prepare for and participate in the reception of the sacraments of Reconciliation and Holy Eucharist.
Sacrament of Reconciliation is celebrated with grades 3-8 during Advent and Lent.
Students attend Mass on the following occasions:
One day per week as a class (except during a week where there is a scheduled school Mass)
Once a month as an entire school

Each month is hosted by a class and followed by a retreat with their parents

Select Holy Days of Obligation, special days of celebration and Ash Wednesday
To signify the beginning and end of the school year
Prayer services are held for the following occasions:
Weekly assemblies
Lenten Mondays, The Living Rosary and Stations of the Cross
Blessing ceremonies for various school celebrations
Spring 2019 –
Empowering God's Children & Young People Program
The Los Angeles Archdioceses Office of Safeguard the Children has developed a new K-12, "Empowering God's Children" Safety Program for schools and Religious Education Programs throughout the Archdioceses which we'll be teaching in the Spring of 2019. This replaces the old VIRTUS© Teaching Touching Safety Program that we taught here at Holy Family in years past. The new program is designed to help children and young people know they have the power to protect themselves from harmful or threatening situations and to always aim to keep themselves safe and healthy.
Spirituality Program
The Holy Family School's Spirituality program provides students with an opportunity to reflect upon and enrich their own spiritual growth, and to be active in their faith through the partnership with a Christian service organization. Each month, students in grades K-5 receive a Spirituality lesson that is based on 2 "Virtues of the Month," and includes a hands-on activity designed to provide support to that month's Christian service organization. Click here to learn more about the Spirituality Program.
Spirituality Program in Action!
This slideshow requires JavaScript.
Virtue of the Month Program
Recognizing that children need consistent guidance with regard to faith formation, Holy Family School upholds the Virtue of the Month program. This program recognizes and highlights members of the school community (students, teachers, parents, etc.) that engage in positive behavior. Students are encouraged to be their best and live their lives according to the Gospel message of Jesus.
Virtues for 2018-2019 School Year:
September – Courtesy and Respect
October – Self Reliance and Character
November – Wisdom and Good Judgement
December – Sensitivity and Unselfishness
January – Justice and Mercy
February – Hope and Cheer
March – Loyalty and Dependability
April – Reverence and Faith
May – Honesty and Trust

Some our 2017-2018 Class Banners
This slideshow requires JavaScript.