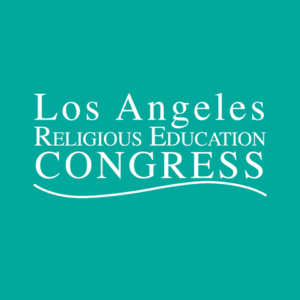 The Los Angeles Religious Education Congress (RECongress) is a four-day event held by the Roman Catholic Archdiocese of Los Angeles. The event began in 1956 as an "Institute" of the Confraternity of Christian Doctrine, popularly known as CCD, and in 1967, the first three-day "Congress" was held. In 1970, the event moved to the Anaheim Convention Center in Anaheim, California. It is the largest annual gathering of Catholics in the United States with roughly 40,000 people attending. The focus of the RECongress is for those in attendance to learn more about the Catholic faith as well as seeking personal growth. It is open to all people of different faiths.
This will be my 29th attendance at the RE Congress and a reunion of old and dear friends. This spirit-filled and enriching weekend always revitalize my personal faith and the wisdom gathered and many topics,  are an annual gift that renews my ability to serve and minister to the God's people.  
– Colette Villegas, Director of Religious Education
Thirsting for Justice
The theme for the RECongress adult days springs from the Sunday Gospel reading in which a Samaritan woman encounters Jesus at a well.
Their conversation opens new possibilities not only for the woman but for her whole town as well, possibilities for a new life found in Christ himself. This reading has special significance in the Church's life. For many centuries, this reading has accompanied those who are seeking initiation in our Church. The imagery of finding one's thirst quenched not from water drawn from the deep underground but from the infinite love and mercy of Jesus have called so many to conversion and faith.
This theme also recalls Jesus' teaching in the Beatitudes of those who have a yearning for justice that is so deep, so intense it feels like a persistent thirst, a gnawing hunger. In this, we are again called to turn to Jesus who reconciles all creation to God and through his death and Resurrection and sends the Spirit to awaken in us the courage and gifts necessary to work for justice and peace.
Our theme, "Thirsting for Justice," not only describes a condition of the heart but it also is meant to begin a conversation. Thirsting for justice, what am I willing to do to help build the kingdom of God? How will you respond?
– Fr Bazyouros, Director, Office of Religious Education
RECongress' Mobility Team is available to help with wheelchair transport, special seating and any access issues within Congress. People Moving & Security – assist with the traffic flow and crowd control on Youth Day.
Rob & Claire Williams, Lary & Sue Chiles and Marco & Christina Ruano are the ReMobility chair's as well as the Boy Scouts who help those with mobility issues travel from session to session. Not only are the sessions in the Anaheim Convention Center, but in surrounding hotels as well.
For additional information on the Religious Congress Ministry and Youth Day at Congress with Holy Family, please click here.
This slideshow requires JavaScript.