Parent Guild Forms
Accounting Policies and Procedures for PG Board Members and Committee Chairs
Continental Breakfast Procedures
Family Service Hour Form
Reimbursement Request – Check Request
Online Scrip Ordering
Table Linen Request Form
Trading Post Request Form – The Trading Post is currently in the process of being redesigned. Please hold off on submitting any forms until further notified.
Objectives of the Guild
To actively support the Parish Life Director, Principal and teachers in the philosophical goals and objectives of Holy Family School
To help parents acquire an appreciation of the ideals of a Catholic education
To promote cooperation and understanding of the educational responsibility of both parents and teachers
To provide parents with educational opportunities for the development of their child's growth, spiritually, academically and socially
To help with fundraising endeavors
To provide communication to parents about activities and involvements of Holy Family School
Membership
Any person who has a child enrolled in Holy Family School shall be a member of the Parent Guild.
Leadership
Here is a brief listing of the New 2017 – 2018 Parent Guild Executive Board, Committee Chairs, Room Parents and Class Historians. The Complete list will be updated Shortly. Please check back following Easter Break.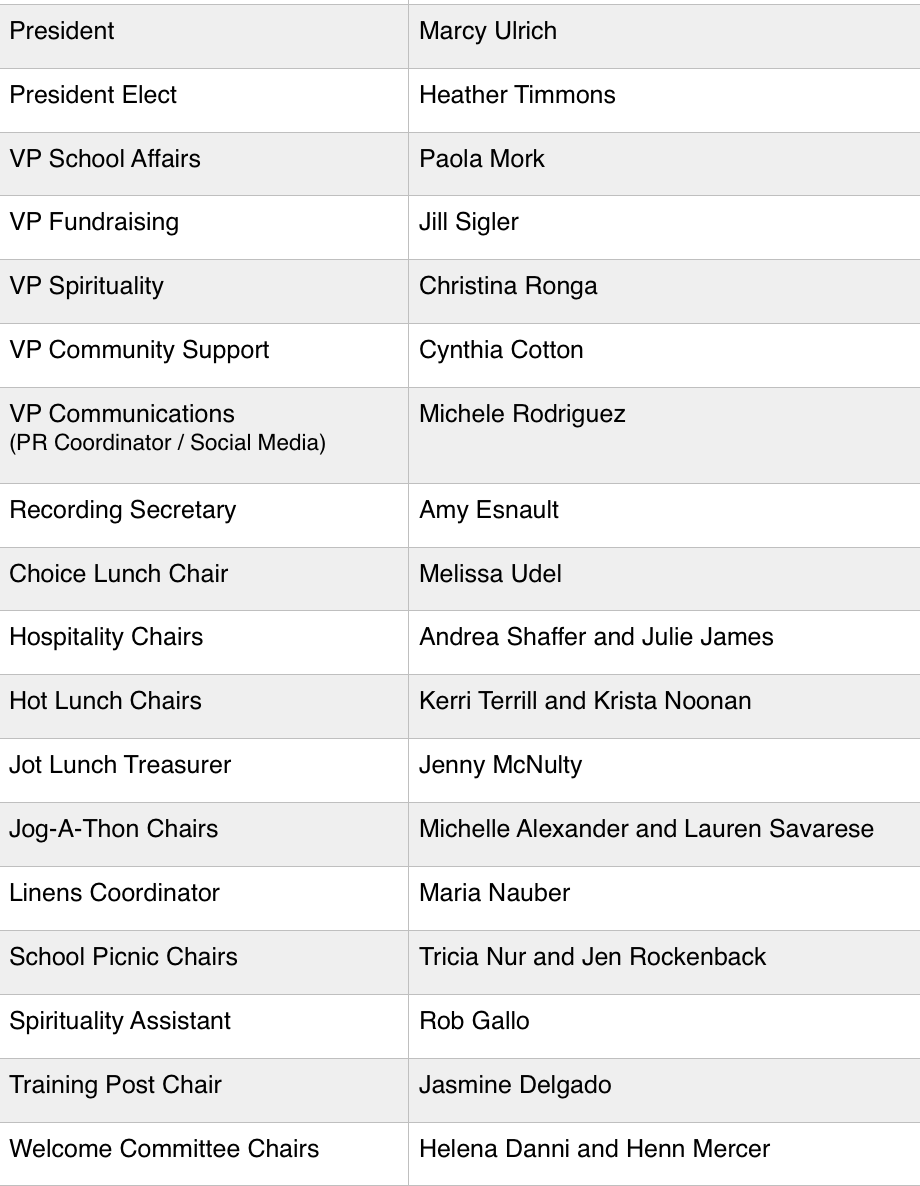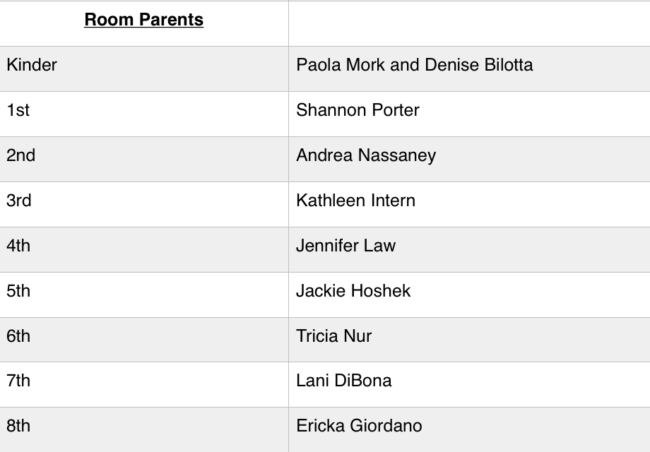 2016 – 2017 Parent Guild Executive Board
(This email system is being adopted over the course of the Fall of 2016. If you have any questions, please contact Erin Maloney immediately at communications@hfsparentguild.org).
Michelle Escobar
Marcy Ulrich
President
President Elect
president@hfsparentguild.org
presidentelect@hfsparentguild.org
Angel Herrera
Florinda Bailey
Vice President, Finance
Vice President Elect, Finance
treasurer@hfsparentguild.org
treasurerelect@hfsparentguild.org
Jill Sigler
TBD
Vice President, Fundraising
Vice President Elect, Fundraising
fundraising@hfsparentguild.org
fundraisingelect@hfsparentguild.org
Paola Mork
Vice President, School Affairs
schoolaffairs@hfsparentguild.org
Erin Maloney
Vice President, School Communications
communications@hfsparentguild.org
Christina Ronga
Vice President, Spirituality
spirituality@hfsparentguild.org
Amy Laguna
Cynthia Prado
Historian
Community Support
historian@hfsparentguild.org
Amy Esnault
Recording Secretary
secretary@hfsparentguild.org
Frank Montejano
School Principal
fmontejano@holyfamily.org
2016-2017 Parent Guild Committee Chairs
(This email system is being adopted over the course of the Fall of 2016. If you have any questions, please contact Erin Maloney immediately at communications@hfsparentguild.org).
Barbara Wagner
Boxtops Chair
boxtops@hfsparentguild.org
Maria Adriano
Choicelunch Chair
choicelunch@hfsparentguild.org
Aimee Gutierrez & Claudia Perez
Fall Fundraiser Co-Chairs
fallfundraiser@hfsparentguild.org
Julie James & Andrea Shaffer
Hospitality Co-Chairs
hospitality@hfsparentguild.org
Kerri Terrill
Krista Noonan
Jenny McNulty
Hot Lunch Chair
Hot Lunch Volunteer Coordinator
Hot Lunch Treasurer
hotlunch@hfsparentguild.org
hotlunchvlntrs@hfsparentguild.org
hotlunchtreasurer@hfsparentguild.org
Jackie Hoshek & Heather Timmons
Jog-a-thon Co-Chairs
jatchair@hfsparentguild.org
Barbara Wagner
Linens Chair
linens@hfsparentguild.org
TBD
Parent Retreat Chair
parentretreat@hfsparentguild.org
Michele Rodriguez
Maria Risher & Jackie Wong
Social Media Chair
Website Content Editors
socialmedia@hfsparentguild.org
webcontenteditor@hfsparentguild.org
Tricia Nur & Jennifer Rockenback
School Picnic Chair
School Picnic Co-Chairs
schoolpicnicchair@hfsparentguild.org
Catherine Johnson
Shoebox Science Chair
shoeboxscience@hfsparentguild.org
Angela Konrad & Megan Casani
Special Friends Co-Chairs
specialfriendschair@hfsparentguild.org
Rob Gallo
Spirituality Retreats
spiritualityretreats@hfsparentguild.org
Jasmine Delgado
Trading Post Chair
tradingpost@hfsparentguild.org
Helena Danni & Melissa Udell
Welcoming Co-Chairs
welcomingchair@hfsparentguild.org
Gail Hermano & Gia Villaluna
Yearbook Advisors
yearbookadmin@hfsparentguild.org
2016-2017 Room Parents & Class Historians
(+This email system is being adopted over the course of this school year. If you have not received a reply from the Parent Guild room parent or class historian, please contact Erin Maloney immediately at communications@hfsparentguild.org).
Margaret Thomas – Kindergarten
TBD
Room Parent
Historian
kinderroomparent@hfsparentguild.org+
2025classhistorian@hfsparentguild.org+
Michelle Alexander – 1st Grade
TBD
Room Parent
Historian
grade1roomparent@hfsparentguild.org+
2024classhistorian@hfsparentguild.org+
Lucy Jaburian – 2nd Grade
TBD
Room Parent
Historian
grade2roomparent@hfsparentguild.org+
2023classhistorian@hfsparentguild.org+
Christina Ronga – 3rd Grade
TBD
Room Parent
Historian
grade3roomparent@hfsparentguild.org+
2022classhistorian@hfsparentguild.org+
Kim Erickson – 4th Grade
TBD
Room Parent
Historian
grade4roomparent@hfsparentguild.org+
2021classhistorian@hfsparentguild.org+
Daniela Derriman – 5th Grade
TBD
Room Parents
Historian
grade5roomparent@hfsparentguild.org+
2020classhistorian@hfsparentguild.org+
Lani Di Bona – 6th Grade
TBD
Room Parent
Historian
grade6roomparent@hfsparentguild.org+
2019classhistorian@hfsparentguild.org+
Kim Murphy – 7th Grade
TBD
Room Parent
Historian
grade7roomparent@hfsparentguild.org+
2018classhistorian@hfsparentguild.org+
Ana Lacayo & Wendy Funkhouser – 8th Grade
TBD
Room Parent
Historian
grade8roomparent@hfsparentguild.org+
2017classhistorian@hfsparentguild.org+
Programs and Activities
The Parent Guild sponsors two major fundraisers throughout each school year for Holy Family School — the Fall Fundraiser and our annual Jog-a-thon each Spring.
The Parent Guild also hosts, sponsors, and/or coordinates volunteers for the following school events and programs:
Back-to-School Picnic
Boxtops for Education
Choicelunch
New Family Welcome Reception & Orientation
Special Friends' Day
Talent Show
Parent Retreat
Meet the Masters Art Program
8th Grade Graduation Luncheon
8th Grade Scholarships
Shoe Box Science Program
Trading Post (gently used uniforms)
The Parent Guild hosts, sponsors and coordinates volunteers for the following for our faculty:
Christmas Luncheon for Teachers and Faculty
Christmas and End-of-Year Bonuses
Conference Week Meals
Teacher Appreciation Luncheon & Flowers
Anniversary Gifts
Parent Guild By-Laws
These are the policies/procedures that govern the HFS Parent Guild.