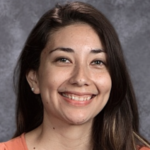 Brenda Ascencio – I am absolutely blessed to be teaching at Holy Family. I have been here at Holy Family for a little over 5 years. I have had such a wonderful learning experience working with students from grades K – 12th grade. Through my time at California State University- Los Angeles I have earned my Multiple Subject Credential, B.A. degree in Liberal Studies and M.A in Education (Technology and Leadership). I have completed over 60 hours of observation at day cares, high school, middle school and charter schools. My goal is to have a well-rounded experience in all forms of education so I can apply my experience in my own classroom. I have ample experience in many areas of the education field. I am very passionate about ensuring that my students will receive quality education that will allow them to reach their fullest potential. l absolutely love this quote because I really believe that it is true.  "Who dares to teach must never cease to learn" by John Cotton Dana. I look forward in learning new things that will benefit my classroom. As time changes I like to be updated with new technologies and strategies.  I like to reflect on my teaching practices so that I can improve my craft in teaching.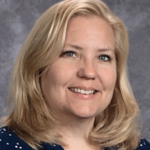 Heidi Sicka – I am very excited to be one of the two Kindergarten teachers at Holy Family School.   I have over 25 years of teaching experience in the field of early childhood education.  My teaching philosophy stems from my own childhood experiences, education, and studies of theorist such as Friedrich Froebel, Howard Gardener and John Dewey.  I am most drawn to John Dewey and his beliefs of how children will gain meaning and understanding of their world through their own experiences. It is through these experiences that children will question and understand their world.
"Education is a social process.  Education is growth. Education is not a preparation for life: education is life itself."   John Dewey
Kindergarten Aide: Maria Adriano (C'83, P'15, P'17) – Hello! I'm Maria Adriano and I have been working with Brenda Ascencio as her teacher's aide since 2015. I grew up in South Pasadena and I'm an alum of Holy Family School, South Pasadena High School, and UC Santa Barbara. My husband and I have two daughters who are both recent graduates of HFS. I'm looking forward to the upcoming year and getting to know our new kindergartners and their unique personalities!
---
The kindergarten program at Holy Family School is committed to providing the developmental building blocks that contribute to our students' intellectual, spiritual, social, and physical growth.  In addition to our core curricular program, our kindergarten students experience music, computers, Spanish, Visual Art program, and a spirituality program that reinforces our important virtues, such as respect, love, prayerfulness, and faith.
Our kindergarten is divided into two classes, each with a full-time teacher and aide.  This configuration allows us to provide greater individual attention to support each student's learning.  In the morning, students work primarily in centers that incorporate language arts and math.  In the afternoon, the classes work on science, social studies, and religion.  The school day also consists of fun and developmentally appropriate activities including show and tell, songs, movement, painting, and building blocks.
Holy Family School's kindergarten program provides the best learning environment and promotes all areas of development that support the whole child as they become lifelong learners.
---
Here are a few helpful tips for our new Kinder Parents! HFS Helpful Kinder Hints
---
A complete Class Syllabus is available to each student and parent on Schoology which is password protected.
---
Curriculum
Language Arts – Express Readers – 

Express Readers is a phonics-based foundational reading program that uses phonics-based books and materials.  The program is divided into Steps which allow students to progress at an individual pace while mastering foundational skills. 

Math – Strategies from Harcourt math program (HSP) taught through standards-based hands-on math activities and a calendar book
Religion – Faith First
Science – Houghton Mifflin Discovery Works
Social Studies – Houghton Mifflin