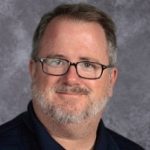 8th Grade Homeroom Teacher
Middle School Religion Teacher
7th Grade Science Teacher
8th Grade History Teacher
cbengford@holyfamily.org
626-403-6176
I am an alumnus of Holy Family School and graduate of South Pasadena High School. Sports were a huge part of my high school experience, particularly basketball, volleyball and football. I graduated from Northern Arizona University with a Bachelors of Science degree in History and minor in Biology. I received my teaching credential at California State Los Angeles.
During high school and college, I worked at Trader Joe's in South Pasadena. In 1992, I was hired at Mayfield Jr. School, where I worked for 2.5 years. During that time, I started a Masters in Education Administration program at Mount St. Mary's.
In May of 1994, I was hired by Dr. Susan Grant to be the 7th grade homeroom teacher at Holy Family for the next school year. During my time here at Holy Family, I have been very busy! I have taught 7th & 8th grade Math, 6th grade Earth Science, 7th grade Life Science, 8th grade American History, and middle school Religion. I have coordinated both science camps – CIMI for 8th grade (for 17 yrs.) and 6th grade Outdoor Science School (for 4 years). I was the Bridges Coordinator with Dolores Mission and coordinated the Science Fair for 10 years. I was the Middle School Coordinator and Vice Principal for 2 years. I coordinated the Academic Decathlon for 15 years.
Currently, I am the 8th grade homeroom teacher. I teach middle school Religion, 7th grade Biology, 8th grade United States History. I am the Religion Coordinator responsible for organizing school Masses, Stations of the Cross, the Thanksgiving and Holy Thursday Prayer Services, and Funeral Altar Serving Teams.  As the 8th grade homeroom teacher, I have the privilege of assisting students and parents with the high school application process and 8th grade graduation.
I am happily married to my wife, Katie, and we have a son, Bradley Patrick. My hobbies and interests include, biking, skiing, golfing, camping, and collecting G-scale trains.
I live by this: God grant me the serenity to accept the things I cannot change; courage to change the things I can; and wisdom to know the difference.
I believe in:
Living one day at a time
Enjoying one moment at a time
Accepting hardships as the pathway to peace
Taking, as He did, this sinful world as it is, not as I would have it
Trusting that He will make all things right if I surrender to His will
That I may be reasonably happy in this life and supremely happy with Him forever in the next. Amen.