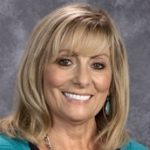 Administrative Assistant: Marie Lopez – I have been at Holy Family School for as long as the current building has been standing!! I just celebrated my 20 year anniversary as the Administrative Assistant.  I take caring for the children of Holy Family very seriously and do my best to make the children and parents feel welcomed.  I support the students, parents and faculty/staff to the best of my ability. Holy Family School and Church are "home" to me. Prior to Holy Family, I was in a similar position at Alhambra High School for 17 years. 
I am a loving mom to four daughters (including Mrs. Nicole Smiland, 4th grade teacher) and a doting Mimi (grandmother) to 4 grandsons and 2 granddaughters. I also have a rescue poodle named Brigette Bardog (poodles are French, no??)
I am proud to be part of this loving community.