My goal is for students to embrace Science and the Learning. Students who show respect, take notes, study their notes, and do their homework will be successful in my class. Communication is very important. I want to teach my students to advocate for themselves and to be comfortable communicating with authority. So I encourage them t email me themselves if they have questions or concerns.
Study Tips
Students should take notes during the warm ups and class discussions. Quizzes will mirror warm ups and Tests will mirror study guides. Also students can use Quizlet to study vocabulary. There is a premade vocabulary list for almost every chapter. These can be found easily by searching the chapter title and book name in Quizlet. *Quizlet will be loaded on each students iPad
Notes
Notes can be taken on an iPad using any note app. They must be filed neatly and clearly labeled. I will ask for your file of notes at the end of each trimester. Notes will consist of daily warm ups and any lecture notes including study guides for each chapter.
Chapter Labs/Standards Warmups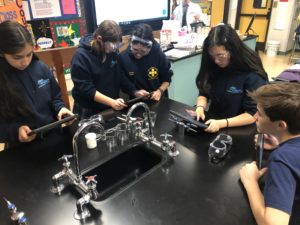 Chapter Labs will be completed once a chapter. They will be done in lab groups and all materials will be provided. Each student must do his or her own FORMAL lab write up. Lab write ups must include: (1) Problem, (2) Prediction, (3) Data, (4) Analyze and Conclude Questions, and (5) Design an Experiment in PMP form!
Standards WarmUps are shorter lesson labs. They will be done in lab groups and all materials will be provided. Each group member will turn in one lab by the end of the class period. There will need to include (1)data qualitative, quantitative or both and (2) think it over questions. If not turned in by the end of the class period they will be penalized 50% for being late.
A complete Class Syllabus is available to each student and parent on Schoology which is password protected.
---
8th Grade Science
In order to fulfill the Science requirements for the eighth grade class as established by the State of California Content Standards we will cover the following:                                                                               Text : Pearson Prentice Hall Focus on Physical Science
Introduction to Physical Science
The Nature of Matter 
Solids, Liquids, and Gasses 
Elements of the Periodic Table 
Atoms and Bonding
Chemical Reactions 
Acids, Bases, and Solutions 
Carbon Chemistry 
Motion and Energy 
Forces
Forces and Fluids