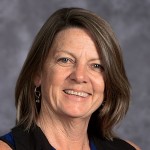 6th Grade Homeroom & Social Studies Teacher
7th Grade Language Arts Teacher
8th Grade Language Arts Teacher
tmerritt@holyfamily.org
626-403-6169
I have been teaching at Holy Family since 2011.  I grew up in San Diego and attended Occidental College in Eagle Rock.  After graduating from Oxy with a degree in Diplomacy and World Affairs and minors in English and Political Science, I moved north to attend Stanford Law School.  I spent ten years practicing law, first as a clerk to an appellate judge, then as a trial attorney at the Department of Justice in Washington, D.C., and finally in private practice here in Los Angeles.  To spend more time raising my three children, I "retired" from the practice of law.  During those years at home, I rediscovered my love of literature and found that I really enjoyed helping my kids with their writing and literary analysis.  These discoveries led me to obtaining my teaching credential in order to share my love of reading and writing with young people.  At Holy Family, I have been fortunate to also use my legal training as a coach of the mock trial team.  Our 2015 championship was easily one of the highlights of my professional career!  I was also lucky enough to be selected by in 2016 by the Museum of Tolerance for an educator fellowship in Berlin focused on teaching the Holocaust, an experience I have tried to bring into my eighth-grade classroom.
    In my spare time, I love to travel, read, watch my youngest daughter play soccer, seek out new and interesting restaurants with my husband, and try to catch up with my two kids in college!