Middle School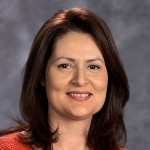 Spanish Teacher
laceves@holyfamily.org
626-403-6188
Prior to becoming an educator I worked in banking and telecommunications for over 10 years. After my second son was born I decided to make a career change and pursue my passion for education. As a native Spanish speaker, I used my Spanish language skills routinely with my international business clients. Combining business background, my natural first language, and passion for education, I developed a custom Spanish language immersion program for all ages, Alegria Learning.  While working with Alegria Learning clients I also began assisting the Spanish program at Holy Family School in 2012. In 2014, I was hired as HFS's middle school Spanish teacher.  
A strong focus of my teaching approach is to incorporate technology and other innovative methods to keep students engaged in their language learning experience. Emphasis is placed in improving the student's level of proficiency in the target language.
In addition to the language itself, students are taught about culture associated with the Spanish language. During the year students learn about fun and interesting cultural traditions and events, such as Día de los Muertos, Hispanic Heritage Month, Los barriletes de Guatemala, Los Gauchos of Argentina, Inti Raymi Festival from Perú, and the list goes on!
I feel that my journey as an educator over the past six years has been a true blessing.