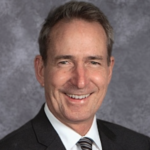 Andrew Reed – As the music director for the school, I teach music to all grades, from Kinder to 8th, direct the children's choir, Honor Choir and the school musicals.  I have been in this position at the school for 11 years. I am also the Director of Music for the parish and have been for 14 years. This allows for a lot of beneficial overlap between the two, such as great access to the church and all its resources and having the choirs provide music at regular Sunday Masses and special events.
 In the classroom, we use technology to learn to read music, keyboard study,  and ear training. The students really enjoy it. Student as young as 1st grade begin learning intervals, sight-reading rhythms, and other applicable music theory.
Being a Catholic school, there is an emphasis on singing the music of the church, but one of the favorite parts of my work is doing the musicals. We put on full production musicals here. I love to see the progress and development of the children as they gain confidence and discover their talents.
---
Our Music program enriches and delights every child in ways related to his or her stage of development. Each student discovers the joy and satisfaction of music-making through singing, creating, moving, listening, and performing, thus supplying the foundation for lifelong musical learning and understanding.
All grades have music class once a week to learn about music, song, voice & instruments such as bells, percussion, and recorders
In December we have a Music Performance in the church for parents and families – where each grade performs a variety of Christmas songs
Choir and Honors Choir is available starting in 3rd grade; choir sings at school Masses, special occasions (first communion, graduation,) and 2-3 Sunday 12:45 Masses a month.
.. and now on with the show … VISIT OUR DRAMA SECTION!