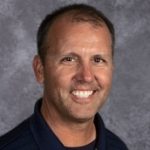 Physical Education Teacher
6th Grade Science Teacher
Athletic Director
bcook@holyfamily.org
626-403-6178
Text: Prentice Hall, Science Explorer – Focus on Earth Science
This class is an introduction to the study of geologic sciences that are concerned with the origin, structure, and physical phenomena of the earth.
Being "Hand's On" is very important with Earth Science, so our 6th Grade class looks forward to their experiences on a week long trip to Malibu Outdoor Science Center. Our students explore an outdoor classroom on the shore of the Pacific Ocean. The science content is taught by experienced naturalists and students stay in cabins overnight. They focus on teaching state science standards through hands-on learning while exposing students to new social settings, exploring different environments, and providing them with new experiences. Students leave the program with a new sense of personal responsibility, independence and understanding of the natural world around them.
This slideshow requires JavaScript.
6th Grade Course Objective: Students will learn how to make good observations, take accurate notes and develop organizational and analytical skills that will prepare them for higher-level science classes.
A complete Class Syllabus is available to each student and parent on Schoology which is password protected.
---
Topics Covered
Plate Tectonics
Earthquakes
Volcanoes
Rocks
Weathering & Soil Formation
Erosion & Deposition
Water
The Oceans
The Atmosphere
Weather Factors & Patterns
Climate & Climate Change
Ecosystems
Living & Energy Resources.