Buy Scrip! Turn your everyday shopping into profits for HFS.
What is Scrip?
Scrip is a fundraising program that allows participating merchants to contribute a percentage of your purchases to the school.
For a complete List of Scrip Retailers click HERE.
Families participate by purchasing scrip in the form of gift cards at ShopWithScrip.com .
In order to participate in the Scrip program, you need to have a ShopWithScrip account with a linked PrestoPay payment account. Please email scrip@holyfamily.org for enrollment instructions.
All New and Returning Scrip Buyers – Please click HERE to familiarize yourself with some very important policies and guidelines concerning electronic and physical scrip.

2017-2018 BACK TO SCHOOL NEWS
ATTN: ALL SCRIP BUYERS — NEED SOME PHYSICAL SCRIP CARDS??
We are doing a special order of physical scrip cards this week!  All orders must be placed online at ShopWithScrip.com and paid for using PrestoPay by midnight, Thursday Sept 7th.  (No checks payments are accepted).  You may pick up your order at the school office starting Wednesday Sept 13th.
We will have one more special order of physical scrip cards in September and then the first week of each month thereafter.
Click this image to read all about this years Scrip Contest!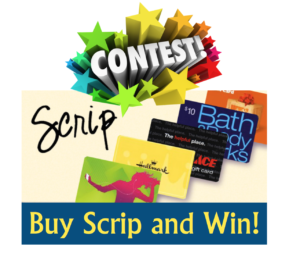 If you have questions or want enrollment instructions for ShopWithScrip and PrestoPay accounts, please email scrip@holyfamily.org
Jill Sigler – VP Fundraising
Andrea Giese – VP Fundraising Elect
Tom Corcoran – Scrip Coordinator
---
Click HERE for Scrip Frequently Asked Questions