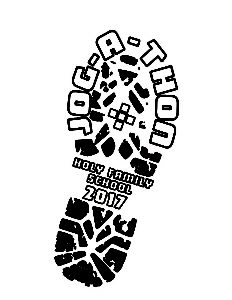 Jog-a-thon 2017:  Friday, March 3rd
For 2017 Jog A Thon Final Fundraising Information, visit http://hfsjogathon.accelraising.com
| | |
| --- | --- |
| FEB | Students collect pledges and sponsors from family & friends using our Jog-a-thon website |
|   | Sponsorships due. Sponsorships range from $75 to $325. 100% goes towards your fundraising commitment. Become a sponsor! |
|   | Parisi 1-hour conditioning workout for students. $10 per participant. $100% goes towards your fundraising commitment. Flyer can be found here. Sign up here! |
|   | Adult Fundraiser: Stride on Granite near Lake Ave. A 45-minute interval & heart rate monitor-based running/jogging workout. $40 per participant including raffle with great prizes. 100% goes towards your fundraising commitment. get yourselves in shape by joining us for a workout at Stride on Feb 27th at 10am. To get the flyer with more information, click here. Space is limited. You must sign up here! |
|  MAR | |
| | All students need to bring a filled, reusable water bottle to school: please label with student's name and grade. |
| | Carb Load/Dine-Out Night at PitFire Pizza on Arroyo Parkway - HFS will receive 15% of all sales! Flyer can be found here. |
| | Jog-a-thon 9:30-11:00 a.m. at South Pasadena High School Track - Final pledges due. |
The Jog-a-thon (JAT) is the Parent Guild sponsored fundraiser and our school's biggest fundraiser of the year. It is a an community-based, energizing way of supporting the school. Friends and relatives support the Holy Family School students by sponsoring the students for as many laps as they can walk or run around the South Pasadena High School track in one hour. It is a great morning full of fun, enthusiasm and excitement! This is an especially fun fundraiser because the kids actually participate to "raise" money!
EVENT HIGHLIGHTS
▪ Each student receives a free JAT t-shirt to be worn the day of the event, compliments of The Parent Guild. After JAT, T-shirts may be worn for PE.
▪  School Spirit – Spirit contests by grade at  JAT plus the school is divided between Blue and Gold for bragging rights and an ice-cream party for the color that runs the most laps!
▪  Prizes – Students, this is your opportunity to raise money for your school and win! The top families who raise the most money will win an awesome prize! The top grade will win an In 'N Out Lunch and students who raise $100+ get free dress.
How to Help:
▪ Volunteer!  Parents, check with your class JAT coordinator In February for various volunteer positions. Earn service hours! We need your help!
▪ Support- be there on the day of the event and support your child and school!
Questions? Contact JAT Chairs Jackie Hoshek and Heather Timmons at hfsjogathon2017@gmail.com
This slideshow requires JavaScript.
DAY OF JOG-A-THON SCHEDULE: 
8am -- Set-up begins at SPHS track
9:15am -- Students walk over to track
9:30am -- Prayer circle and warm-up stretches
10am -- On you mark, get set, GO!
11am -- Final lap and cool down. Clean-up begins.
11:10am -- Students walk back to HFS for popsicles
11:35am -- Students return to classroom for final dismissal.
Noon -- Dismissal (no carpool)