"Teach a

Child in the way they should go, and when they are old, they will not depart from it!" – Proverbs
Dear Holy Family Community,
HFS is shaping up to be a very busy Summer with our a variety of classes ranging from a single course to a full-day program. For our incoming Kindergarteners, HFS offers a Special Kindergarten Readiness Session, specifically for those students. In addition for Grades K – 5; Math, Language Arts, Visual Arts, Science, Study Skills, and Tech 101!
REGISTRATION DEADLINE EXTENDED TO JUNE 1ST
The Holy Family School summer program will take place on the Holy Family campus from June 26 – July 20.
Finally, please feel free to contact me Dr. Frank Montejano, Ms. Levin, or Ms. Arnold for additional information about the program.
Sincerely,
Frank Montejano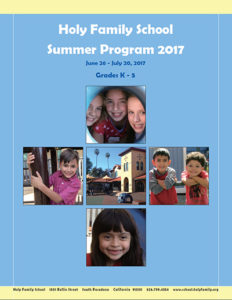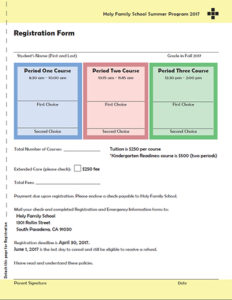 Frequently Asked Questions (FAQ's)
Question: How large are the classes? Answer: Summer school courses will have a minimum of 7 students and a maximum of 18 students in each class.
Question: If I need to drop a course, will I receive a full refund? Answer: Full refunds will be given if the request to drop classes is before June 1, 2017.
Question: Some enrichment courses are for students entering 1st and 2nd or 3rd and 4th grades.  W

ill students receive the proper curriculum for their grade level? 

Answer: Classes will be limited to 18 or fewer students. Teachers will provide differentiated instruction to meet the learning needs of each student.