Dear Holy Family Community,
We are very excited and pleased to be offering a comprehensive summer program to our school community, as well as our sister schools, Dolores Mission and Our Lady of Guadalupe. The program will offer a variety of classes, and will include different options ranging from a single course to a full-day program.  The option for after school care will also be included.
The Holy Family School summer program will take place on the Holy Family campus and will be from June 26 – July 20. Please see the attached link for detailed information about the program.
Finally, please feel free to contact me (fmontejano@holyfamily.org), Ms. Levin (clevin@holyfamily.org), or Ms. Arnold (earnold@holyfamily.org) for additional information about the program.
Sincerely,
Frank Montejano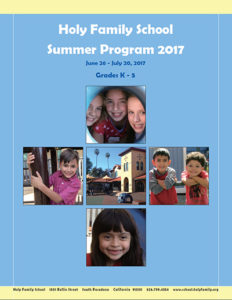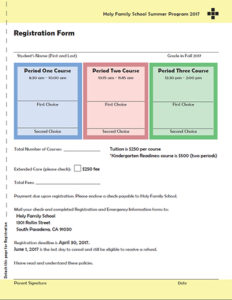 Frequently Asked Questions (FAQ's)
Question: How large are the classes? Answer: Summer school courses will have a minimum of 7 students and a maximum of 18 students in each class.
Question: If I need to drop a course, will I receive a full refund? Answer: Full refunds will be given if the request to drop classes is before June 1, 2017.
Question: Some enrichment courses are for students entering 1st and 2nd or 3rd and 4th grades.  W

ill students receive the proper curriculum for their grade level? 

Answer: Classes will be limited to 18 or fewer students. Teachers will provide differentiated instruction to meet the learning needs of each student.