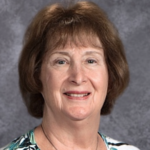 Nurse Jackie Ficht – I am "Nurse Jackie" Ficht. I received my RN from Columbus Hospital School of Nursing in Chicago, earned a BS in Health Science at the University of Redlands, and became a Certified Women's Health Care Nurse Practitioner at Harbor General Hospital/UCLA.  My nursing career has always been in the area of Maternal and Child Health, and in June 2019 I celebrated having been a nurse for 50 years! I have been at Holy Family School since 2001–prior to that I worked at CHLA.
I have two daughters:  Annie works for a Veterinarian in LA, and Allison is a USAID Program Analyst, focusing on Maternal-Child transmission of HIV/AIDS in Africa.
Providing health care and health education to the students, families, faculty, and staff of Holy Family School has been a blessing in my life!