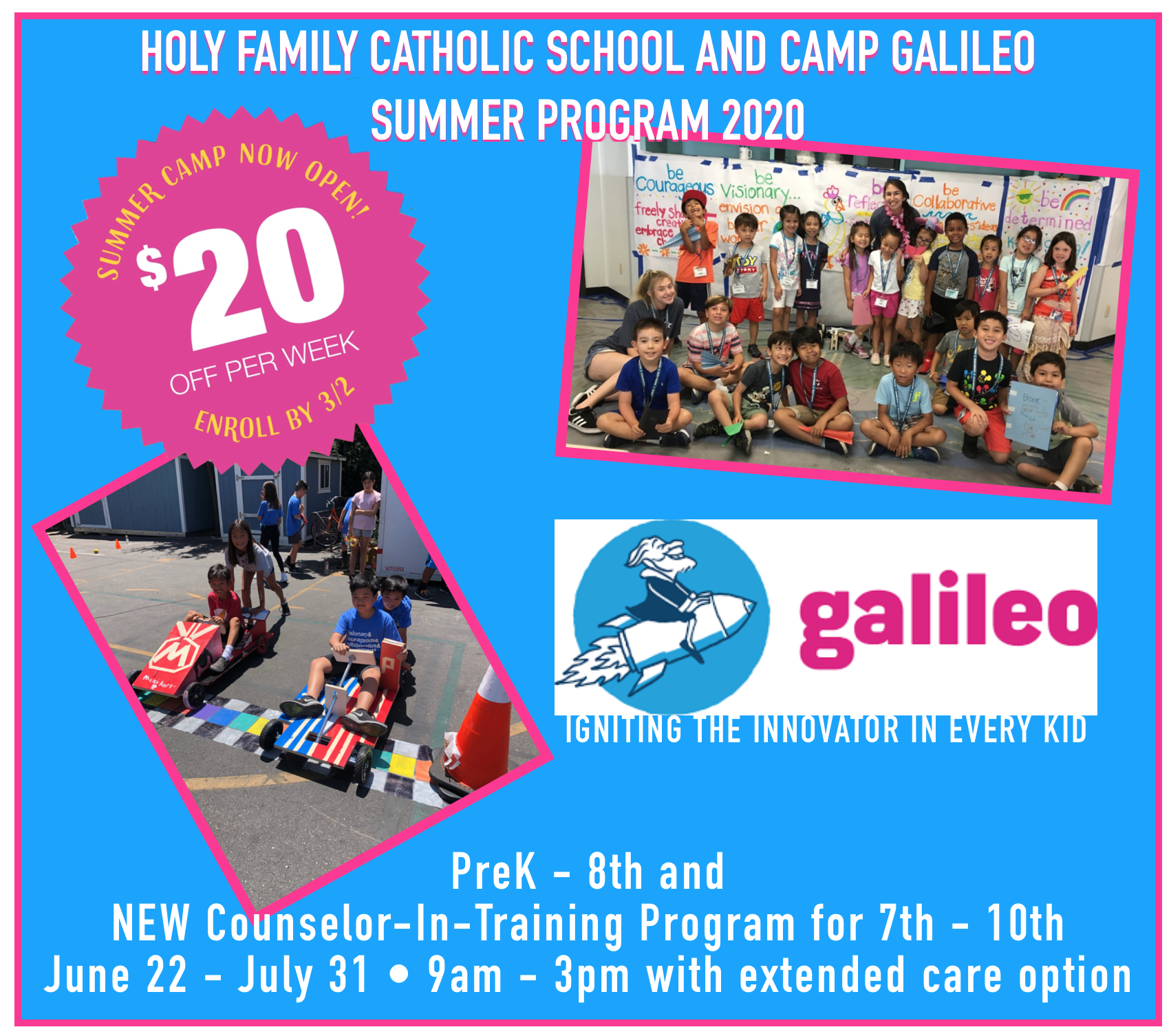 Galileo engages every kid with hands-on projects that teach design-thinking and problem-solving skills, all wrapped in big summer fun. Energetic, inclusive, returning staff and world-class curriculum make for a summer that kids love, from Camp Galileo (pre-K – 5th grades) and Galileo Summer Quest (entering 5th – 8th grades), to our new Counselor-in-Training program (entering 7th – 10th grades).
At Galileo, we mix the fun of traditional day camp with thoughtfully crafted, hands-on projects in fields from science and engineering to the visual and culinary arts. Supported by our excellent staff and high-quality programming, campers grow with us from pre-K through 8th grade, emerging as confident creators ready to express themselves fearlessly and turn their ideas into reality. We call them Galileo Innovators, and they will change the world.

CAMP GALILEO (Pre-K thru 5th)

At Camp Galileo, Pre-K thru entering 5th graders find the perfect mix of summer camp fun and hands-on learning. Supported by the boundless energy and experience of the best staff around, campers craft extraordinary works of art and engineer incredible inventions. Plus, they spend plenty of time playing, exploring and building their teamwork skills outdoors.
Each week is organized around a different inspiring theme and full of projects carefully designed for every age group
Olympic Games
National Parks Adventure
Toy Makers Workshop
GALILEO SUMMER QUEST (5th thru 8th)
At Galileo Summer Quest, entering 5th thru 8th graders find the perfect mix of day camp fun and hands-on learning as they dive deep into something that inspires them. Each week, campers choose from 3 immersive majors, picking a subject they already love or a new area they're excited to explore. Mentored by expert instructors and equipped with professional tools and materials, they produce mystery escape rooms, engineer drones, whip up gourmet confections, breathe life into virtual reality and much, much more.
Each confidence-building, collaboration-packed week lets campers realize their personal vision in a new inspiring subject. Here's what's on offer in 2019:
Chefology: Breakfast Club
Chefology: Decadent Desserts
Drone Innovators
Go-Kart Builders
Mystery Room: The Great Escape
Virtual Reality
AND NEW THIS SUMMER FOR GRADES 7-10 IS
THE COUNSELOR IN TRAINING PROGRAM!
---
Optional healthy lunch and early dismissal option for pre-K and Kindergarten campers.
Open to all families; Financial Aid Available.