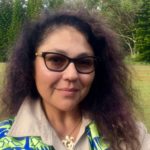 Mrs. Michele Marie Rodriguez – I have been part of the HFS Community since 1972 and am honored to be an Alum of HFS Class of 1985. Since graduating, I have continued to be involved in the school and parish in various ministries for over 34 years. Since 2017, I'm the Director of Communications for the school maintaining the school's brand (logos/brochures/advertising/flyers/handbooks) webpage, Facebook, Instagram and Vimeo pages. I love taking pictures, so acting as a Digital Historian for the school by setting up, maintaining and monitoring our class Shutterfly accounts is a great part of my position. These pictures are used in various areas for the school; web page, advertising, yearbook, social media, end-of year videos etc. which also includes monitoring our "Student No Image" list. I am on the Executive Parent Guild as VP of Communications, Committee Member for the Holy Family Troop 333 Boy Scouts & Cub Scouts and HFS Alumnae Committee member.
As an Alumnae Committee member, I love that I get to work closely with the HFS Admissions Team each year by assisting with School Tours, creating the school brochures and sharing just how AWESOME HFS is to many Pre-Schools throughout the school year.  I have much ALOHA being a parent at HFS because of the faith, families, activities and education that my children receive – HFS NO KAI OI (HFS is the best, Hawaiian style)!
My daughter Celia Lucia is a Girl Scout Brownie, a Cub Scout Wolf, in medical remission for Juvenile Arthritis, and going into the 2nd grade this Fall 2019-2020. My son Michael Rendon is currently an Eagle Scout with BSA Troop 333, graduated HFS in 2017 and is going into his junior year at La Salle College Preparatory in Pasadena. My husband David and I have a passion for Movies, Music and Love to travel to the Beautiful & "Paradise Found" Hawaiian Islands aka our "second home".
I LOVE the Community of HFS, USC ❤️💛 and the LA Dodgers! A-L-O-H-A! 🤙🏼