---
April 5, 2019 – EVENT POSTPONED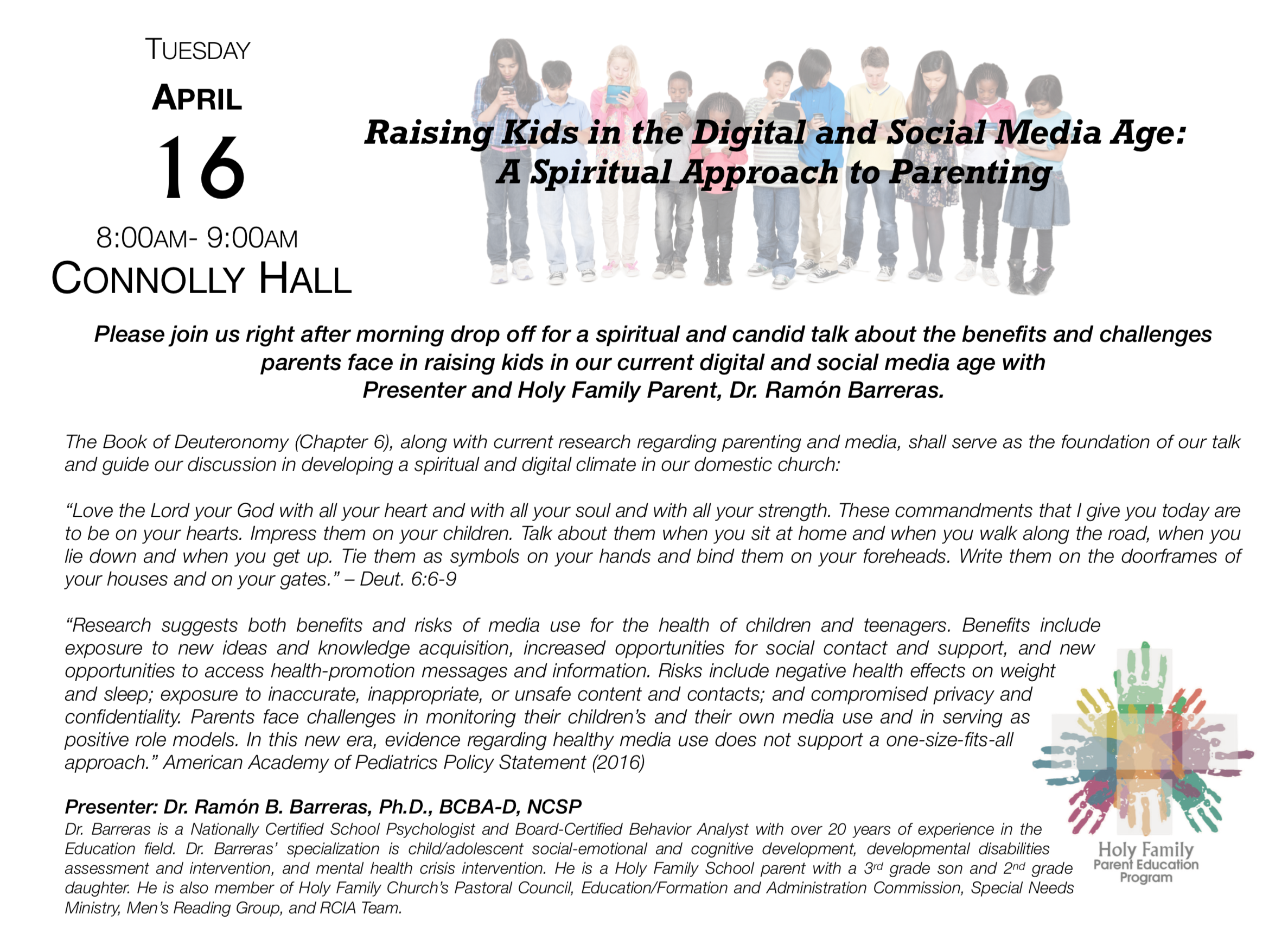 October 19, 2018
Angst
More than 2 million US children aged 6-17 years deal with anxiety or depression. There will be a screening of the documentary "Angst" at the South Pasadena High School auditorium on Monday, October 29 from 7-9 pm. The 43-minute film explores anxiety— its' causes, effects, and what we can do about it. All parents, and students over the age of 10 are welcome. Following the screening Natasha Prime MSW, School Social Worker and Child Welfare Counselor will be available to answer questions and discuss school and local resources.
I have seen the film and highly recommend it. Counselors AND students in the film talk about effective ways to manage anxiety. Spoiler alert—-Michael Phelps' interactions with a junior high student dealing with anxiety are heartwarming.
CLICK HERE for more information and to register. Walk-ins are welcome.
Questions? Email Nurse Jackie or Ms. Roberta
---
October 6, 2018
"Tech Talk Tuesdays" – A Follow-up to "Screenagers"
Presented by the Holy Family Parent Education Program
So you've seen "Screenagers," and you're still processing all of the complex issues raised by the film – How concerned should I be about my child's cell phone or gaming habits?  How is social media affecting my child's self-esteem?  How is technology affecting my child's brain development?  Am I modeling the kind of screen behavior that I'd like to see from my child?
Even if you haven't seen the movie – if you'd like to further explore these issues and more, please join us for a 3 week Parent Education series, "Tech Talk Tuesdays," where you will have the opportunity to discuss the many topics around screens and technology raised by "Screenagers" with other parents in the same boat, guided by an experienced facilitator who deals with these issues regularly in her work as a counselor and therapist.
Tech Talk Tuesdays
For 3 weeks following the film screening, Tuesdays, October 9, 16 and 23, 6:30-8:00 pm in the Holy Family Pastoral Center, discussions facilitated by Cristina Perez, LCSW, School Counselor at Mayfield Senior School, and former Staff at Student Counseling Services at the University of Southern California.
Topics include digital citizenship, attention and distraction, mental health, socialization, health, cyber risks and benefits, sleep and screens, managing screen time, and embracing a cyber wise culture in and outside of the home.
$25 for the 3-week series or $10 for each drop-in class (2-for-1 tuition for couples).
_____________________________________________________________________________________________________________________________
October 6, 2018
The Elementary Years
A New Class Offered by the Holy Family Parent Education Program
So you've made it over the hump of the turbulent toddler years, weathered the storms of preschool, and are now in the smooth sailing of the elementary years, right?
Except now you're facing even more questions that keep increasing in complexity, and you're feeling a little overwhelmed.  How do I address discipline with a child whose skills in the art of negotiation seem to suggest a future as a lawyer?  How do I address unhealthy media images and protect my child's self-esteem?  How do I talk to my child about traumatic events like school shootings, or death or loss in our family?  How do I have the "birds and the bees" talk, and when??  Or maybe I want to explore how to find balance and connect to my own spirituality and creativity in my busy life.
If these questions, or countless others, are on your mind, we invite you to join Holy Family Church's new Parent Education Program and participate in our new class offering, The Elementary Years.  This class is geared toward parents of elementary-aged kids (Kindergarten through 4th/5th grade), and seeks to provide a supportive and non-judgmental forum for parents to connect with each other, share their struggles and triumphs in their parenting journeys, hear from each other as well as guest speakers in our community, and hopefully make new and lasting friendships!
The Elementary Years will be offered as an 8-week course offering, on Wednesdays, October 17 – December 19, from 4:00-5:15 p.m. in the Holy Family Pastoral Center (No class 10/31 and 11/21).  Low-cost childcare available for elementary-aged students (Kinder and up).  $160 for the 8-week series, or $115 for early registration by October 5th.
---
Happy Summer, 
I hope your summer is treating you well, so far! I have come across many resources over the past few weeks and wanted to share them with you all. They range from articles to workshops, parenting, retreat for teens, etc. Please feel free to reach out to me if you were to have any questions. I hope you have an enjoyable and restorative summer! 
Oh, and by the way, Holy Family will be hosting the documentary – "Screenagers" October 3rd and you are all invited, it will be in the Parish Hall in the evening! Stay tuned for details. 
Roberta
Resources for Parents & Guardians:
Institute for Girls Development Resources:
Free Opportunity for Parents of Girls regarding Cliques, Conflicts, & Connections:
https://www.instituteforgirlsdevelopment.com/portfolio/cliques-conflicts-and-connections-2/
Summer workshop for girls 3rd thru 5th grade:
https://www.instituteforgirlsdevelopment.com/portfolio/stand-up-speak-out/
Summer workshop for girls 2nd thru 5th grade:
https://www.instituteforgirlsdevelopment.com/sample-page/summer-workshops/superflex-summer-academy/
Middle School Girls: Fun, therapeutic ART GROUP
https://www.instituteforgirlsdevelopment.com/group-therapies-middle-high-school/creative-connections/
UCLA Resources:
UCLA – 15 to 18 yr olds regarding DAY OF MINDFULNESS FOR TEENS
http://marc.ucla.edu/day-longs#Teen
Mindfulness Opportunities for Teens:
Teenagers (15 thru 18): 1-week Mindfulness Retreat in July at Carpenteria:
https://ibme.info/register/youth/southern-california-teen-retreat/
Articles:
https://www.uclahealth.org/mattel/health-tips-for-parents
For Parents of Early Adolescents Conflict Education (PEACE):
https://www.semel.ucla.edu/socialskills/research/parents-early-adolescents-conflict-education
https://santamaria.wa.edu.au/skills-teachers-want-kids/
Parenting Classes: 
https://www.echoparenting.org/parentingclasses/
Great Articles about Mindfulness:
https://www.wsj.com/articles/how-to-find-a-best-friend-1424213995
https://www.nytimes.com/guides/well/mindfulness-for-children
https://www.nytimes.com/2017/01/19/travel/meditation-for-children-vacations.html
Additional Summer Resources:
https://community.mindfulschools.org/?utm_source=Mindful+Schools+Newsletter&utm_campaign=4b3b0123eb-NEWSLETTER_2018_06_24&utm_medium=email&utm_term=0_024a46d2a1-4b3b0123eb-21062467
---
The Holy Family School counselor is an important part of the educational leadership team at Holy Family School, and provides valuable assistance to students. The school counselor helps parents, teachers, and school faculty/administration to identify potential behavioral, social & academic difficulties. In addition, the counselor will work with students to identify their strengths, interests, and needs, providing students with the support and encouragement that they need to develop academically and socially. The counselor will frequently provide counseling in both individual and group settings.
Students are referred for counseling in three ways: school faculty/administration, parents or by the students themselves. Student are never solicited for counseling, parental/legal guardian consent is only to assure that your child use the counseling services if you, your child or the school deems it necessary.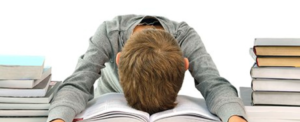 SLEEP, WHO HAS TIME FOR IT?
In October 2015, Stanford Medicine published an article titled, "Among teens, sleep deprivation an epidemic," by Ruthann Richter that highlights research and studies by Rafael Pelayo, MD, with Stanford Sleep Disorders Clinic, William Dement, MD, PhD, founder of Stanford Sleep Disorders Clinic, and Nanci Yuan, MD, director of Stanford Children's Health Sleep Center, to name a few. The research provides area of concern and addresses the link of sleep deprivation with mental health concerns.
The article is lengthy (https://med.stanford.edu/news/all-news/2015/10/among-teens-sleep-deprivation-an-epidemic.html), so I will highlight a few items I found helpful:
Pressure not to sleep
"While teens are biologically programmed to stay up late, many social and cultural forces further limit their time for sleep. For one, the pressure on teens to succeed is intense, and they must compete with a growing number of peers for college slots that have largely remained constant."
"Teens have access to multiple electronic devices they use simultaneously, often at night. Some 72 percent bring cellphones into their bedrooms and use them when they are trying to go to sleep, 28 percent leave their phones on while sleeping, only to be awakened at night by texts, calls or emails, according to a 2011 National Sleep Foundation poll on electronic use."
"The problem of sleep-phase delay is exacerbated when teens are exposed late at night to lit screens, which send a message via the retina to the portion of the brain that controls the body's circadian clock. The message: It's not nighttime yet."
The role of parents
"Studies suggest adolescents do better in terms of mood and fatigue levels if parents set the bedtime – and choose a time that is realistic for the child's needs. According to a 2010 student published in the journal Sleep, children are more likely to be depressed and to entertain thoughts of suicide if a parent sets a late bedtime of midnight or beyond."
"Many studies show students who sleep less suffer academically, as chronic sleep loss impairs the ability to remember, concentrate, think abstractly and solve problems."
"Sleep is believed to reinforce learning and memory, with studies showing that people perform better on mental tasks when they are well-rested."
"It impacts academic performance. It's harder to take tests and answer questions if you are sleep-deprived."
"That's why cramming, at the expense of sleep, is counterproductive, said Pelayo, who advises students: Don't lose sleep to study, or you'll lose out in the end."
The panic attack
"Sleep is believed to help regulate emotions, and its deprivation is an underlying component of many mood disorders, such as anxiety, depression and bipolar disorder. For students who are prone to these disorders, better sleep can help serve as a buffer and help prevent a downhill slide, Joshi said."
Please feel free to call or email me with any questions and / or concerns regarding this topic.
Roberta Fernandez, LMFT
Holy Family School Counselor
P: 626-403-6162