CALLING ALL CAMPERS – ARE YOU READY TO INNOVATE THIS SUMMER?
Pre-K thru 8th Graders
Join us this summer for our inaugural year of Camp Galileo and Galileo Summer Quest South Pasadena at Holy Family School! 
---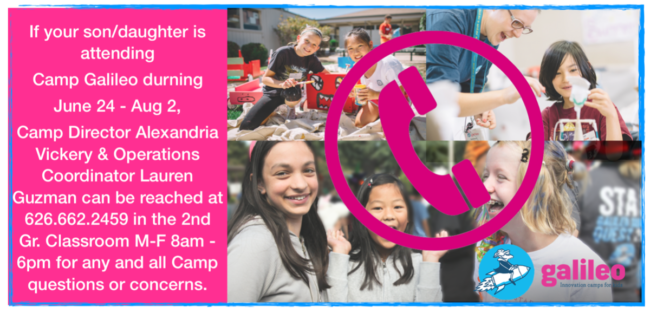 ---
At Galileo, we mix the fun of traditional day camp with thoughtfully crafted, hands-on projects in fields from science and engineering to the visual and culinary arts. Supported by our excellent staff and high-quality programming, campers grow with us from pre-K through 8th grade, emerging as confident creators ready to express themselves fearlessly and turn their ideas into reality. We call them Galileo Innovators, and they will change the world.
CAMP GALILEO
(Pre-K thru 5th)

At Camp Galileo, Pre-K thru entering 5th graders find the perfect mix of summer camp fun and hands-on learning. Supported by the boundless energy and experience of the best staff around, campers craft extraordinary works of art and engineer incredible inventions. Plus, they spend plenty of time playing, exploring and building their teamwork skills outdoors.
Each week is organized around a different inspiring theme and full of projects carefully designed for every age group:
Renaissance Adventure –  Masterful Masterpieces and da Vinci's Inventions

Deep Ocean Explorers – Art and Science of the Mariana Trench

Expedition to Everest – Himalayan Art and the Science of Mountaineering

Makers Workshop – Handcrafted Art and Real-World Inventions
GALILEO SUMMER QUEST
(5th thru 8th)
At Galileo Summer Quest, entering 5th thru 8th graders find the perfect mix of day camp fun and hands-on learning as they dive deep into something that inspires them. Each week, campers choose from 3 immersive majors, picking a subj
ect they already love or a new area they're excited to explore. Mentored by expert instructors and equipped with professional tools and materials, they produce mystery escape rooms, engineer drones, whip up gourmet confections, breathe life into virtual reality and much, much more.
Each confidence-building, collaboration-packed week lets campers realize their personal vision in a new inspiring subject. Here's what's on offer in 2019:
Chefology: Breakfast Club

Chefology: Decadent Desserts

Drone Innovators

Go-Kart Builders

Mystery Room: The Great Escape

Virtual Reality
---
Meet your Camp Director!
Alexandria Vickery
My name is Alexandria Vickery, and I'm so excited to be the Camp Director for Camp Galileo and Galileo Summer Quest at Holy Family School this summer. I had such a fun time recently leading your students in chicken cheers, camp songs, and explorations into our summer program, and I've been counting down the days until camp starts on June 24th (83 days as of April 2nd!). In the meantime I've been working hard to put together my camp vision, collaborate with Principal Regan-Smith on site coordination, hire an exceptional camp staff, and connect with you, my future Galilean families! I'd love to take this opportunity to share a little bit more about Galileo, my role as Camp Director, and my background. So without further ado, I present to you, a Q&A with the Camp Director.
Q: So Alexandria, what are Galileo Camps all about?
A: That's a great question, thank you so much for asking! We mix the fun of traditional day camp with thoughtfully crafted, hands-on projects in fields from science and engineering to the visual and culinary arts. Supported by the boundless energy of the best staff around, campers grow with us from pre-K through 8th grade, emerging as confident creators ready to express themselves fearlessly and turn their ideas into reality. We call them Galileo Innovators, and they will change the world.
Q: That sounds so amazing, engaging, and fun! How did you become involved with summer camps?
A: Once upon a time, I was dead set on being a field researcher in urban ecology and disease evolution, and was pursuing a career with the National Parks Service in the Santa Monica Mountains. Even though I was regularly working with mountain lions, wading through beautiful hidden streams, and occasionally popping up in the backyards of celebrities, the best part of my job was when I got to do outreach with school-age visitors. I quickly realized that science was so much more fun when I shared it with others – and when I wasn't being eaten alive by mosquitoes. I've spent the last nine years focusing on direct service and program building within STEM education spaces.
I have always been excited about summer camp, from first attending one as a 7 year-old (Camp JCA Shalom in Malibu, I got really good at Ultimate Frisbee) to working in different roles for three summer camps as part of my professional career. Now that I'm working in education leadership, I love thinking about summer programs as alternative learning spaces with more flexible structures than year-round schooling. There is so much potential for growth, exploration, and magic in these spaces, and of course I love the opportunity to wear a rainbow tutu and matching tiara to work.
Q: Cool but, what is it about Galileo specifically that you're so drawn to?
A: Besides the fact that every Galileo space is full of joy and laughter, I'm absolutely in love with our Galileo Innovation Approach (GIA). While working as a Program Coordinator for a summer camp in Seattle, I put together an experiential learning model for me and my staff to follow that highlighted learning as an ongoing, relational process. When I learned about the GIA, and specifically the Innovator's Process, I was delighted to see so many of my ideas reflected back to me, and implemented successfully at a large scale. I am honored to be part of an education movement that values vision, courage, collaboration, determination, and reflection, where campers are encouraged to imagine a world that doesn't yet exist and then use their resources to create it over the course of a summer.
Q: Hey, what's that camp vision you were talking about? Is it the GIA?
A: Oh yeah, thank you for reminding me! While the GIA is definitely a big part of everything I'm doing as a Camp Director (it's a valuable and necessary tool not just for our campers, but for everyone involved in Galileo), I'm also bringing in my own spin to it. Because we're a first-year site, I'm drawing on my growth mindset and creating a 2019 theme of "growing a Galileo garden," planting seeds of innovation that will bloom into color, wackiness, and some really awesome discoveries over the course of the summer. In that spirit, we'll be trying new things, taking healthy risks, celebrating our super successes and marvelous mistakes, and innovating without fear of failure.
Our South Pas site already has several Galileo returning staff from other sites, as well as a bunch of returning families from surrounding camps already signed up to participate in our sparkling new weekly themes and some shiny new majors. I'm excited that there will be so many Galileo experts bringing their unique energy, costumes, cheers, and traditions to Holy Family School! We are going to have a blast all summer long, growing together as a camp and as a community.
Q: What's your favorite thing about Galileo?
A: The first time I was in a Galileo event was at a Camp Director retreat, and I had the same excited butterflies in my stomach as when I walked into the first day of summer camp as a kid. But unlike when I was a kid, I didn't feel nervous as all; I walked in feeling like I was excited to be there, and everyone was excited that I was there, and I was excited that everyone else was there, without any worry about if I was going to have fun.
This feeling I described is exactly why I love Galileo, and exactly the feeling that our camps create for our campers. From the very moment your kids are dropped off on their first day, they're going to realize that they've landed somewhere incredible special. Without ruining all the surprises, let me just say we have a lot of camp traditions and a lot of room to make new ones, whether it be the magic portal called the Fun Machine that leads into camp, our themed dress-up days, or maybe even an opportunity to pie a favorite staffer in the face.
But of course, if your camper is feeling nervous, I would love to talk with you and them about what they can expect from a day at camp so they show up feeling prepared and pumped up.
Q: What do you do when you're not a Camp Director?
A: I'm currently pursuing my Master's in Educational Foundations at Cal State LA, where I'm also developing a thesis on critical joy in education spaces, and I will be completing the Los Angeles Urban Teacher Residency after graduation. I'm also a comics artist, keyboardist, flower enthusiast, and devoted cat mom.
Q: You seem great, are there any opportunities to meet you before camp starts?
A: I will be at Odd Nights at the Autry on April 19th from 6-10pm. Please stop by the Galileo booth, I would love to meet your family and any friends with questions about camp.
Q: I have some questions/concerns/big dreams for the summer. What's the best way to contact you?
A: I love that you want to chat, I'm looking forward to hearing from you! You are always welcome to email me, and if you'd like to schedule a quick call with me, please text me a few options of times you're available to talk for 5-15 minutes, Mondays, Thursdays, or Friday, 8am-5pm. My phone number is (626) 662-2459, and that will also be our camp phone this summer. I'd also love to invite you to follow the Galileo South Pasadena Instagram site! During the pre-season, you'll get a preview of all the fun you can expect at camp; and during camp, you'll see actual photos from the camp day!  Follow us today @galileo_southpasadena.
Q: Sorry, I just have to ask… what's with the rubber chicken?
A: Ah, one of our best-loved camp traditions is our celebrated mascot, the Rubber Chicken. Legend tells of a giant chicken inspiring OG (Original Galileo) and foretelling a future chicken made from a material durable of wear, yet gentle of pecking. Each site has their own RC with its own name, personality, backstory, and superpowers. I'm looking forward to having your campers help me get to know our South Pas RC a little better this summer, because I currently don't know very much about this mysterious creature…
Can't wait to grow with you this summer at camp!
Alexandria
---
Optional healthy lunch and early dismissal option for pre-K and Kindergarten campers.
Open to all families; Financial Aid Available.