Religious instruction is an integral part of our curriculum. Religion is taught formally each day and is also made an informal part of our studies and daily interactions.
Students in grade 2 prepare for and participate in the reception of the sacraments of Reconciliation and Holy Eucharist.
Sacrament of Reconciliation is celebrated with grades 3-8 during Advent and Lent.
Students will attend Mass on the following occasions:
One day per week as a class (except during a week where there is a scheduled school Mass)
Once a month as an entire school
Select Holy Days of Obligation, special days of celebration and Ash Wednesday
To signify the beginning and end of the school year
Prayer services will be held for the following occasions:
Weekly assemblies
Lenten Mondays, The Living Rosary and Stations of the Cross
Blessing ceremonies for various school celebrations
Virtue of the Month Program
Recognizing that children need consistent guidance with regard to faith formation, Holy Family School upholds the Virtue of the Month program. This program recognizes and highlights members of the school community (students, teachers, parents, etc.) that engage in positive behavior. Students are encouraged to be their best and live their lives according to the Gospel message of Jesus.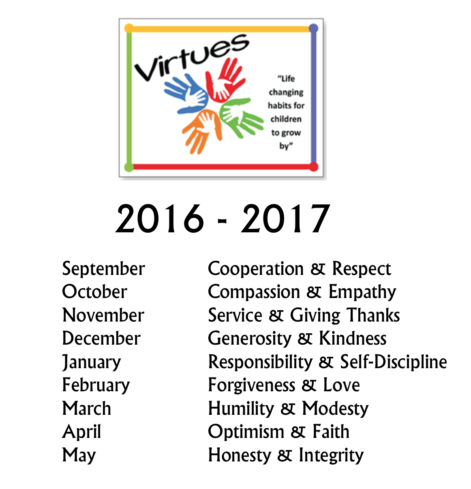 Philanthropy of the Month Program
In an effort to reinforce the Virtues of the Month and encourage our children to live their faith in action, a philanthropy is introduced each month. This philanthropy ties in with the virtues. The monthly classroom activities involve some way to benefit and help the people connected with the specific philanthropy.