Our Scholastic Book Fair is a reading event that provides the books kids want to read. It's a wonderful selection of engaging and affordable books for every reading level.
Reading for pleasure inside and outside of school has real and long-lasting benefits. It unlocks the power of information and imagination and helps children discover who they are. Please make plans to come to our Annual HFS Book Fia and be involved in shaping your child's reading habits.
REMEMBER, 50% of all purchase benefits HFS!
See you at the book fair!
Ms. Ericka Giordano – HFS Librarian
COME BY IN PERSON:
SUNDAY, JAN 27 10:15am – 1:15pm
MONDAY, JAN 28TH thru WEDNESDAY, JAN 30TH Durning School Hours
THURSDAY, JANUARY 31ST During Open House (6pm – 7:30pm)
You can shop ONLINE from 1/20/19 until 2/7/19! Now Get Reading!!!
---

The Holy Family School Library is open Monday through Friday.  Closed Mondays and Tuesdays from 12:20-1:05pm, however, appointments can be made ahead of time for middle school AR testing.  The children are welcome to come during lunch recesses to take Accelerated Reader tests, study, read, check in/return books, or do homework. Many times there are digital resources available in the library that coincide with books or topics we discuss during class time that the children can use during their lunch break.
Children in grades 1-4 may check out up to four books each week. If they choose to have the books longer than one week they will need to bring them back for renewal. Fines are not charged for overdue books, but rather a reward is given in the form of stickers and bookmarks for remembering to return books. New books cannot be checked out until all overdue books are returned. Testing for Accelerated Reader is also dependent upon all library books being returned or renewed.
It is tremendously exciting to see such avid readers here at Holy Family. A tremendous love of reading has been instilled in the students of Holy Family at home, it truly shows in their enthusiasm!
Reading is our passport to ADVENTURE!
---
---
Renaissance Place/Accelerated Reader
You and your child can access so much more through Renaissance Home Connect. Home Connect  improves the school-to-home connection by allowing parents and students to log in and view the student's reading (and math practice for middle schoolers), as well as progress towards goals.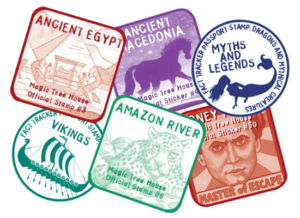 Parents can also specify up to six email addresses to receive automatic updates on their student's math and reading progress.
Please email Ericka Giordano if you are interested in Home Connect and she can get you started!
AR Bookfinder is such a convenient tool! Click this link: ARBookFind for a list of ALL the Accelerated Reader tests that are available for students to take a quiz. You can search by book title, author, reading level or points. I encourage middle school students and parents to check this site for a quiz on a book being used for the middle school requirement.
Volunteer Opportunities
There is plenty of opportunity to gain service hours in the library! It is a great time to not only earn your service hours, but to spend time with your child and their classmates. During your time, you will help check books in/out, maybe read a story to the class, or shelve and repair books. Non library class volunteer hours are also available.
The Holy Family annual Book Fair is held in the library during Catholic Schools Week in January. Volunteers are needed to help set up (Friday before Catholic Schools Week), work after masses on the Sunday of the Book Fair, and at Thursday Night's Open House.
Please contact me anytime to set up your volunteer time!
Ericka Giordano – Librarian