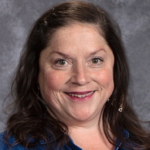 Ms. Carrie Levin –Ms. Levin has been part of the HFS Family for over 14 years, teaching first grade for the last 6 years and is a HUGE LA Dodgers Fan! She is a recent graduate student of Mount Saint Mary's University, where she received her Masters Degree in Instructional Leadership. She is most proud of her class because they are very loving towards one another and really grow in their academics over the year. In the first grade, developing the whole child; socially, emotionally and academically is of the upmost priority. Miss Levin teaches that in her classroom they are a "First Grade Family" and that they treat one other with love, respect, and kindness. Most importantly, in First Grade, they have lots of fun while learning!
First Grade Philosophy of Education
Education must be a hands-on learning experience that involves all of the multiple intelligences. There are many ways to transmit information to students and a good teacher is willing to adjust and modify their style based on the needs of their students. Standard Four 1.1 of the California Standards for the Teaching Profession addresses the topic of drawing on and valuing students' background, interests, and developmental learning needs. I chose this Standard to focus on because in the First Grade classroom at Holy Family, I believe it is crucial in furthering my students' development, and educational skills. In order to accomplish this goal in my classroom, it is imperative to teach to the different learning styles, and use real-life examples that are relatable to the age group I am teaching. Students learn and respond to the material in various ways, some favoring visuals, music, the spoken word, bodily kinesthetics, and or logic. As a teacher, I make any effort to find different methods to assure the information and curriculum is being instilled and processed by the students. I utilize the teaching tools that I have acquired over the years, and positively interact with and inspire the children in my classroom.
A complete Class Syllabus is available to each student and parent on Schoology which is password protected.
---
First Grade Curriculum
Reading: Houghton Mifflin/ Harcourt –First Grade Reading
Phonics: Pearson Modern Curriculum Press Phonics
Handwriting: Zaner-Bloser Handwriting
Small Reading Groups
Mathematics: California Harcourt School Publishers
Religion: Be My Disciples
Science: Houghton Mifflin Science-Discovery Works
Social Studies:Houghton Mifflin- History Social Science-School and Family