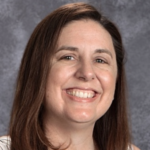 Mrs. Aubrey Moeller - Hello, my name is Aubrey Moeller and I am excited to be the Fifth Grade teacher here at Holy Family. I have over ten years of catechist and teaching experience in the Archdiocese of Los Angeles. I've been lucky to be able to teach students from third through eighth grade. I enjoy using multiple modalities for teaching, such as technology, hands-on manipulatives, and small group work.
Growing up I attended Saint Luke's School in Temple City and La Salle High School in Pasadena. While attending La Salle, I found my passion for teaching when I participated in a service project called Venaver. I received my B.A. in Liberal Studies, with a concentration in Child Development, as well as my California Credential from California State University, Long Beach. Recently, I earned a Technology Specialist Certification from Loyola Marymount.
When I am not teaching I enjoy traveling, scuba diving, and attending Dodger games with my husband, Brian.
Student/Parent Portal:
The school will be using Schoology to manage all classes this year. Both parents and students will have access to the program in order to keep up with what is going on in the classroom. Daily assignments, test/quiz dates, homework lists, classroom news, and student grades will be available through Schoology.
A complete Class Syllabus is available to each student and parent on Schoology which is password protected.
---
Religion­
Be Our Disciples
Fully Alive  
5 main faiths (Christianity, Judaism, Islam, Hinduism, and Buddhism).
Math­
HSP Math
Ten Marks (online math practice program)
Think Central (online textbook) 
Reading­
Houghton Mifflin Reading
Student Novels TBD
Language­
Houghton Mifflin English 
Informative/explanatory writing
Research Report
Poetry (to be performed at Coffee Shop)
Social Studies­
Houghton Mifflin Social Studies
Science­
Technology­
Students will be issued an school­-owned iPad sometime at the end of September or early October. They will be able to take home the iPads daily for use, but must bring them back fully charged each day. Please make sure to get your child an iPad bag (with a shoulder strap), a stylus, and headphones (ear buds or over the ear) before they bring the iPad home. Optional iPad accessories include a keyboard and a mouse.