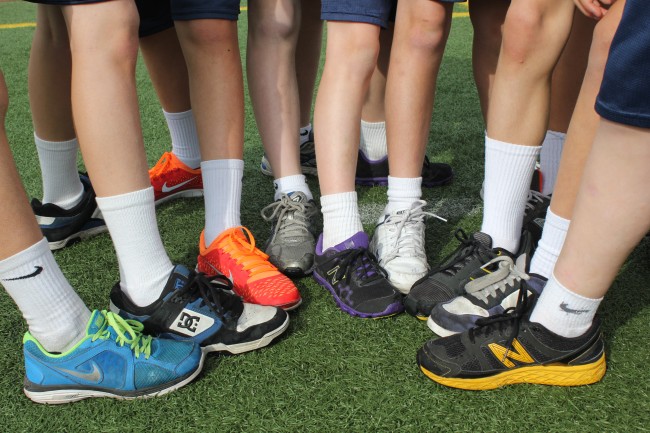 HFS track team practice has begun in preparation of the first of three track meets before the CYO championship track meets. Our coach, Chad Johnson, will once again lead our young athletes. 
When and where are the practices?
Practices are scheduled every Monday and Tuesday, from 3:30 to 4:30 p.m.  Monday's practice is held at the South Pasadena high school track – the athletes are walked to the high school track and back to HFS by the coaches. Tuesday's practice is held at Holy Family – the athletes and coaches run the hills for conditioning, and then return back to HFS. It is important that the coaches be notified by an adult if an athlete is being picked-up at the track.
Where do the students meet for practice? Can they walk to the track alone?
Students must meet at the flagpole at the school, dressed in their PR clothes after school. Students will walk as a group led by Coach Chad Johnson. Please do not let your child walk without their team to the track.
2014 EVENT MEETS:
Sat., March 8 – Knights of Columbus @ Damien HS, La Verne
Sat., March 29 – Falcon Invitational hosted by St Philip @ La Salle HS, Pasadena
TBA – Raider Relays hosted by St Rita @ Bishop Amat HS, West Covina
2014 CYO MEETS:
Sat/Sun, April 12 or 13 – CYO Regionals, site is TBD
May 4 – CYO Prelims, site is TBD
May 7 – CYO Finals, site is TBD
CONTACTS:
Head Coach: Mr. Chad Johnson (cj800mm@yahoo.com)
Track Meet Coordinator: Harold Fregoso (hfregoso4@gmail.com)