Families and Faith
It's no secret that Holy Family School families volunteer countless hours assisting with every activity from the Parent Guild's annual fundraiser to Jog-A-Thon; many families often volunteer beyond the 40 hours that are required each year. But there are some families that go above and beyond what is expected of them every year. They are guided by a deep faith as well as a devotion to help others and share Christ's love. This month, the Holy Family School Communications Team launches a new blog feature – Families and Faith – to highlight these inspirational families. 
The Harnsbergers share cornbread, cider and faith on Thanksgiving morning
On Thanksgiving at 7:30 a.m., Link and Jennifer Harnsberger and their three daughters will already be cooking in the kitchen – a tradition they have followed for eight years now.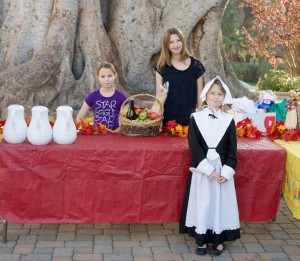 But this is not a meal for their family – the Harnsbergers and their children (Genevieve, a 7th-grader, Patrese, a 5th-grader, and Catherine, a 2nd-grader) will make 200 slices of warm cornbread with homemade honey butter and bubbling apple cider for the Holy Family parishioners who attend Thanksgiving mass. Jane Jackson, Holy Family's wedding coordinator for the past 22 years, and "Mama Pat," as the girls' grandmother is affectionately known, will also assist.
"It creates such a nice community feeling," said Lydia Banales, a long-time Holy Family parishioner as she chatted with husband, Joseph, and friend Sandra Smith after last year's mass and enjoyed the treats. "And I love that they do it as a family and the kids come in their pilgrim outfits."
"It's a great way to start off your Thanksgiving," Smith added.
The Harnsberger tradition – which survived even through Jennifer's bout with breast cancer several years ago – started in 2005. The Harnsbergers had attended Thanksgiving mass the year before and noticed that the treats, which until then had been offered for many years, were not available.
Jennifer Harnsberger asked Frank Ponnet, director of worship, adult education and formation, why the cornbread and cider hadn't been made. He told her that retired Holy Family administrator Julie Smith organized the tradition from the early 1990s to mid-2000s but stopped when she took on more duties at the church.
Ponnet asked her a question that's often asked of Holy Family School families: "Do you want to do it?"
And Harnsberger responded as many families often respond: "Yes, we would love to."
"Holy Family Church and School have given so much to me," said Harnsberger, whose involvement with the church stretches back to 1992 when Link, her fiancée at the time, suggested she join the church choir.
Jennifer Harnsberger has been singing in the 11:15 a.m. choir ever since.
That year, Harnsberger also participated in "ReMembering Church," a ten-week program for Catholics who might have strayed from the church but are eager to renew their faith and beliefs.  The program reinvigorated her faith and also instilled in Harnsberger a desire to help others.
She recalled fondly something that Monsignor Clement Connolly once told her:  "It is the journey that has made you who you are, and you are special because of it."
This is why Harnsberger decided to continue with the Thanksgiving family tradition even as she battled breast cancer in November 2009. She was half-way through her 12-week chemotherapy regimen but she decided she would not let that stop her.
Before the chemotherapy had started, Harnsberger and Holy Family parishioners and school families filled the Pastoral Center chapel to pray and bless her.
"Their giving to me did not stop there," she added. "They picked up the girls from carpool, kept track of their school activities, prepared meals, and took me to appointments when I couldn't drive."
"But more than that, they celebrated life throughout all this time," Harnsberger said.
So on Thanksgiving morning four years ago, Genevieve, Patrese and Catherine dressed as pilgrims and Harnsberger wore a head scarf. As they had every year, they smiled, said "Happy Thanksgiving!" and passed out warm slices of bread and cups of piping hot cider.
And the Harnsbergers continue to give back to a community that constantly renews their faith. They volunteer in the school's "Meet the Masters" arts education program, run the treasury booth at the church's annual fall festival, have procured items and worked at the auction since 1993, among other activities.
There are also last-minute duties that the Harnsbergers don't hesitate to take on. For instance, Link Harnsberger has written music for the choir and Jennifer Harnsberger, a professional photographer, often takes photos at school and church events.
But their favorite activity continues to be Thanksgiving, particularly because the children can help out.
"It's really fun and you get to smell cornbread," said Catherine, 8, as she helped scoop cornbread on paper napkins.
And Link Harnsberger also hopes the family tradition will motivate the children to help others throughout their lives.
"You can start teaching them about service at a young age and it's something that they will hopefully want to continue doing for many years to come," he added.
— Know of an exceptional family at HFS? Please contact writer Letisia Marquez-Molina, letimarquez@hotmail.com with your suggestion.