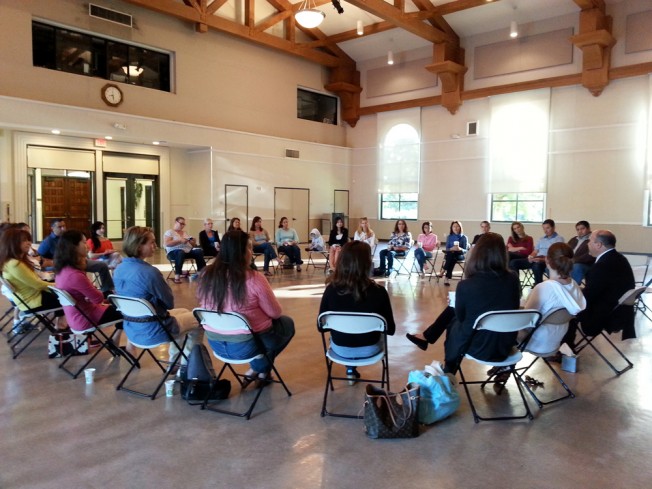 The first of a series of Parent Coffees with our new principal was a great success, with more than 30 parents in attendance.  Following are highlights of the event, including the results of the survey Dr. Montejano conducted a week before to help address top issues and concerns among parents.  Be sure to mark your calendars for the next Parent Coffee on Friday, Oct. 25.
What Parents Like Best About HFS
Strong sense of community
Spiritual foundation
Graduating students are well-prepared to enter top high schools
Top Three Issues Concerning HFS
The need for more space and security:  There is much concern about improving and increasing the existing campus for students.  Dr. Montejano stated that the School Board is making a long-term plan to address this issue and will share information as it becomes available.  In terms of safety, he mentioned that the School Board has assembled a special task force to improve security on campus. The school has also hired more aides to watch the students during recess and lunch times.
Changes and evaluation of curriculum : The implementation of the new State standards will have an impact on the core curriculum, particularly with more focus on STEM (Science, Technology, Engineering and Math), and an emphasis on English Language Arts.  Dr. Montejano acknowledged that this change is a long-term process, but it will help the students become better prepared for the future. He also mentioned that parents wanted a better evaluation of the current Spanish and Drama program.
School Communication: Parents expressed concern of the effectiveness of parent/teacher conferences and how it could be improved. Dr. Montejano stated that he will have a guest speaker to address this at the November 22 Parent Coffee meeting.  Parents also felt that they were getting too much information from several different places, and asked for a better way to centralize school news and updates. Finally, the school will be reviewing other programs similar to ARIES that could be more effective for parents and teachers.