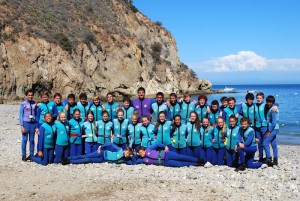 The eighth grade's trip to Catalina Island Marine Institute was one that cannot be forgotten.  It will be embroidered in our hearts and minds for the rest of our lives. There was not one moment without laughter and smiles. This trip has brought our class closer than it previously has been.  The experience was full of knowledge and excitement – learning about different fish, swinging from telephone poles suspended in the air, eating algae and catching eels.  Everyone enjoyed snorkeling and swimming with the fish.  Cimi has made a lasting impression on our class, and will continue to have the same bonding effect.
Some highlights of the trip include the squid dissection, snorkeling, kayaking, and learning.  On the night of the squid dissection, two of our counselors dressed up as Hawaiian-British pop-stars from the eighties.  They got us all pumped up and energized. Maybe too energized, because we couldn't really keep our mouths shut, and as a punishment, we got slimy squid thrown at our faces.  In the end, it was a fun experience. Snorkeling was super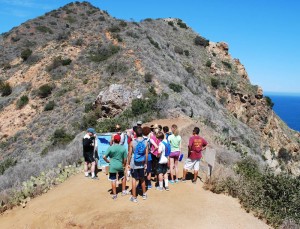 fun! We swam through kelp, followed fish and held sharks.  Even though putting on and taking off the wetsuit was a very long process, it was all worth it! On the kayaks, we played fun and games, and traveled three miles. On the first day, we were challenged to switch places with our partners, stand up and row, and do a dance, all without falling off. It was a lot of fun.  On the last day, we traveled one and a half miles to a private beach to have fun in the sun and go eeling, and then one and a half miles back. Even though we all came back with sore muscles, it was quite the experience. But the main highlight of the whole trip would have to be all the knowledge we took in about different types of fish, and the surroundings of the island. This trip was definitely a fantastic way to start off our last year of school together.  
By – Ellis DeJardin, Class of 2014