Each year, a team of students in grades 6-8 prepare for months as test takers and study buddies for the annual Los Angeles Archdiocese Academic Decathlon. This year it will take place Saturday, March 1st at the L.A. Sports Arena. Over one hundred Catholic schools compete academically in this all-day event. The decathlon consists of two team events – a logic exam and super quiz – and eight individual exams. Holy Family consistently represents itself very well each year.
2017 Academic Decathlon Results
HFS Placed 16th out of 105 schools! Go Knights!
Current Events 8th  • English 5th 
Fine Arts 4th • Literature 5th 
Science 9th • Social Studies 5th 
Super Quiz 7th
Congratulations to all our Academic Decathletes!  What amazing accomplishments they achieved this year!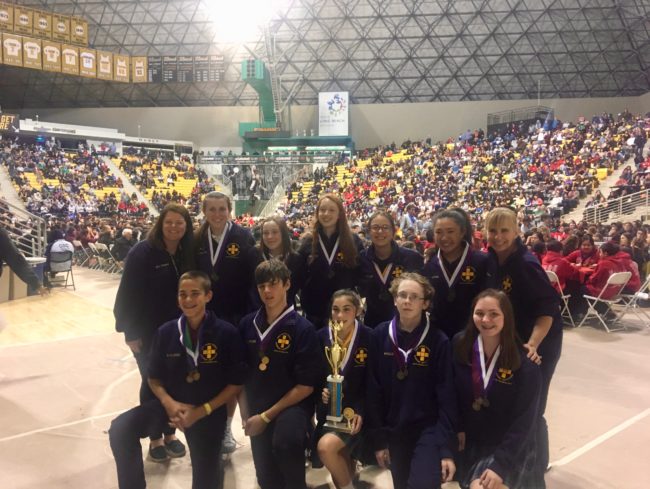 As the 2016-2017 Academic Decathlon season comes to a successful end,

the 2017-2018 season begins. 

In order to avoid any confusion, I am going to clarify how students are chosen to be part of this team.

I have been tracking the 5th – 7th grade students overall class percentages, GPAs, work habits, teacher recommendations, and STAR scores since Trimester 1.

1. Overall class percentages –  I have taken the top ten students in grades 5-7 and averaged their class percentages.  For reference, the top student in the school has a 99.2% class average, very different than a 4.0 GPA.

2.  STAR Scores – I have taken these same students and averaged their STAR scores for Math and Reading for all test dates.  Averages are updated with every test. Part 1 and 2 are entered into a spread sheet and averaged together.

3.  Teacher Recommendations and Student Interest – Teachers are consulted about students' work habits, behavior and overall character.  Also, students interest to add additional academics to their workload is considered as well as their ability to attend practices.

*The workload of the academic decathlon team is rigorous and can be too much for some students who are juggling many extracurricular activities.  Even the highest performing students have declined due to lack of interest.  Extra studying and homework is not appealing to all students!  Students who decide not to accept the challenge are applauded for their honesty and self-awareness.

4.  Coach –  The coach will make the final decisions based on student performance as a study buddy or his or her logic skills at lunchtime logic.
Making these decisions is very difficult. The numbers help to make it somewhat easier but either way, there are only ten positions on the team and some students' feelings may be hurt.  Please feel free to have your son or daughter approach me if he or she is interested in being a part of the team.  Self-reliance and determination demonstrate strong character in my eyes.

*I will be approaching new students to join me and Mrs. Evans at lunchtime logic in the next few weeks.

Thank you for supporting the Holy Family School Academic Decathlon Team!
Mrs. Fran Smiland