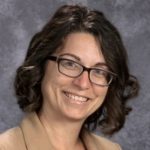 6th Grade Language Arts Instructor
7th Grade Social Studies Instructor
ndaily@holyfamily.org
626-403-6188
Mrs. Natalie Daily grew up in Illinois and graduated from Vanderbilt University in Nashville where she began her teaching career first as a student teacher, and later taught English honors to students in 9th and 11th grade. After moving to Los Angeles, she taught 7th and 8th grade English and Literature at Le Conte Middle School, Hollywood.  She most recently worked as an English teacher to students at a virtual high school.
Mrs. Daily has  been married to her husband for 15 years, and they have a nine year-old daughter, a six year-old son, and a six year-old daughter.