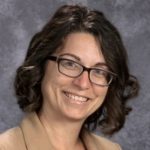 6th Grade Language Arts Instructor
7th Grade Social Studies Instructor
ndaily@holyfamily.org
626-403-6188
I have been teaching at Holy Family since 2016. I grew up in Illinois and graduated from Vanderbilt University majoring in English and Secondary Education after transferring my sophomore year from Loyola University Chicago. After beginning my teaching career at a high school in Nashville, my husband's career in TV/film in the camera department brought me to Los Angeles. I taught English, reading, and yearbook at an LAUSD middle school in Hollywood for five years before staying home with my newborn daughter and her soon-to-follow twin brother and sister. To attempt a work-life balance, I started teaching from home for California Virtual Academies as a virtual English teacher to high school students all over the state. I missed being in the classroom, though, so when a position opened up at Holy Family, I jumped at the chance join the faculty here.
In my spare time, I enjoy reading, cooking, eating my way through San Gabriel Valley restaurants, sewing, making costumes, going to museums, camping, and watching my kids grow up to be strikingly different from each other.