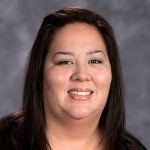 Library Tech
Time Well Spent Director
egiordano@holyfamily.org
626-403-6177
My name is Ericka Giordano.  I am in my fifteenth year as a staff member at Holy Family School. I am a HFS alumna and have been a parishioner of Holy Family Church since as long as I can remember.
I have been Director of the Time Well Spent after school care program since 2005.  I love to see the excitement and energy each child brings to Time Well Spent each day.
In addition to leading the Time Well Spent program, I am the Library Tech at Holy Family School. Reading is a great passion of mine and it is my hope that this passion is imparted on the students.
This is also my fourth year as Student Council Moderator and it is an amazing opportunity to be there to watch these student leaders develop their skills as commissioners of the Holy Family School student body.