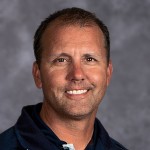 Physical Education Teacher
6th Grade Science Teacher
Athletic Director
bcook@holyfamily.org
626-403-6178
BA – Human Development, Azusa Pacific University
MS – Physical Education, Azusa Pacific University
CA Single Subject Teaching Credential (K-12, Physical Education)
Coach Cook is currently in his 13th year at HFS. In 2011, he became a Certified Athletic Administrator (national certification). During his tenure, Holy Family has had teams in flag football, boys basketball, boys volleyball and girls volleyball advance to the CYO Final Four; all firsts for Holy Family athletics. Coach Cook also works for the Catholic Youth Organization (CYO) and serves as a regional representative for the northern region (43 schools). Additionally, in 2010, Coach Cook was named the HS coach of the year by the LA Times for the Burbank/Glendale areas while serving as head coach for varsity baseball at Flintridge Preparatory School in La Canada from 2001-2012.