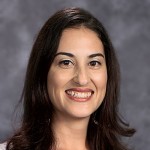 5th Grade Teacher
slutero@holyfamily.org
I joined the Holy Family School faculty in August 2007 with 4 years of prior teaching experience.  I attended California State University, Long Beach for my undergrad and earned my B.A. in English-Creative Writing. A few years later, I attended Loyola Marymount University for graduate school and later earned my Multiple Subject teaching credential, as well as an M.A. in Elementary Education.
When not busy at work, I am busy at home as a wife and mother. My happy home consists of my husband, Cyrus, and two daughters, Ava Isabella (10) and Sofia Elize (7).
In regards to my philosophy on teaching, I believe that teaching is a calling- a choice resulting in the ability and honor to guide students along their life journey. It is a commitment to affect change, and be changed. The spirit of a teacher encompasses a willingness to sacrifice and be challenged.  It is a life spent in dedication to others—many whom I will never forget.
Believing this, I see my purpose as an educator is to affect change. My hope is that in some small way I can inspire my students to strive for greatness.  I believe that the most important gift that I can leave my students with is the desire to always do better.  I am an advocate for the social equality of all my students, and their ability to overcome any challenge.