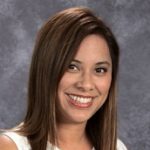 2nd Grade Teacher
joneil@holyfamily.org
626-403-6165
Mrs. Jennifer O'Neil is lifelong alumna of Catholic schools, having attended St. Elizabeth School (Altadena), Flintridge Sacred Heart Academy, and Loyola Marymount University. She has an MA and CA clear credential in elementary education. Prior to joining the Holy Family faculty in 2016, she taught second grade in for nine years in Catholic school.
Mrs. O'Neil regards teaching as her true vocational calling and states, "My teaching philosophy reflects the idea that every person in my classroom is of value and can learn from the other." Her goal is to create "engaging lessons…rich in projects, conversation, and personal connection to subject material." Her other interests include organizing retreats for students, parents, and staff in the school.