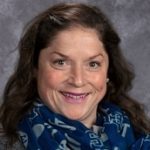 1st Grade Teacher
clevin@holyfamily.org
626-403-6189
Hello, my name is Carrie Levin. Growing up in an Italian, Catholic Family, I made it a career goal to teach in a Catholic School, where I could put my Catholic values and amazing educational experience to good use.  I was born and raised in Pasadena, California, and attended Assumption Blessed Virgin Mary School in Pasadena for Elementary School, followed by LaSalle High School.  Right after high school, I worked at St. Phillip's School in Pasadena as the Director of the Extended Care program for six years.  I left St. Phillip's to pursue a career in Television and Film Casting, and eventually worked my way up to being a Casting Associate for a major Casting company in Los Angeles, California for three years. This three-year experience away from children provided me with the understanding of what I truly wanted to be in life, and that was a teacher. I missed working with children the moment that I left. With this in mind, I went back to school to get my degree and credential. My heart led me back to where I started, and that is with working with children and I believe that it my true calling and passion.
I graduated from Cal State LA with a degree in Child Development, and Multiple Subject Teaching Credential. I have worked with children for 18 years of my life, and have never felt more at home being here at Holy Family for the past 12 years.  Holy Family has provided me with the opportunity to work with many different age groups: 3rd grade (for four years), 4th grade, 5th grade, Kindergarten (for two years) and currently as the 1st grade teacher for the past 3 years.  I feel blessed and lucky to be a part of this fantastic school community!