2019 – 2020
Requirements
Each family is assigned to volunteer for at least 3-morning carpool shifts during each of your child(ren)'s grade(s)' assigned carpool month. If you have multiple children in the same grade, you will only need to work 3 mornings for that grade's assigned carpool month.   If you cannot make your scheduled shift, it is your responsibility to either switch with someone or get someone to cover your day. If you enjoy doing carpool to fulfill your service hours and would like to work more shifts, you should identify yourself with the rest of your class.
Assignments
AUG 28th – SEPT 13th: Parent Guild Board
SEPT 16th -30th: 2nd Grade
OCT: 1st Grade
NOV: 8th Grade
DEC: Kindergarten
JAN: 7th Grade
FEB: 6th Grade
MAR: 3rd Grade
APR: 4th Grade
MAY: 5th Grade
JUN: 2nd Grade
---
PAY PLEASE PARTICULAR ATTENTION TO:
DO NOT PARK ON RAMONA AVE.
PLEASE PARK AT ST. JOSEPH'S CENTER.
DO NOT TURN RIGHT INTO THE PARKING LOT FROM OAK
DO NOT TURN LEFT OUT OF THE PARKING LOT ONTO OAK
Please review these and all the instructions with whoever drops off/picks up your child(ren) in carpool.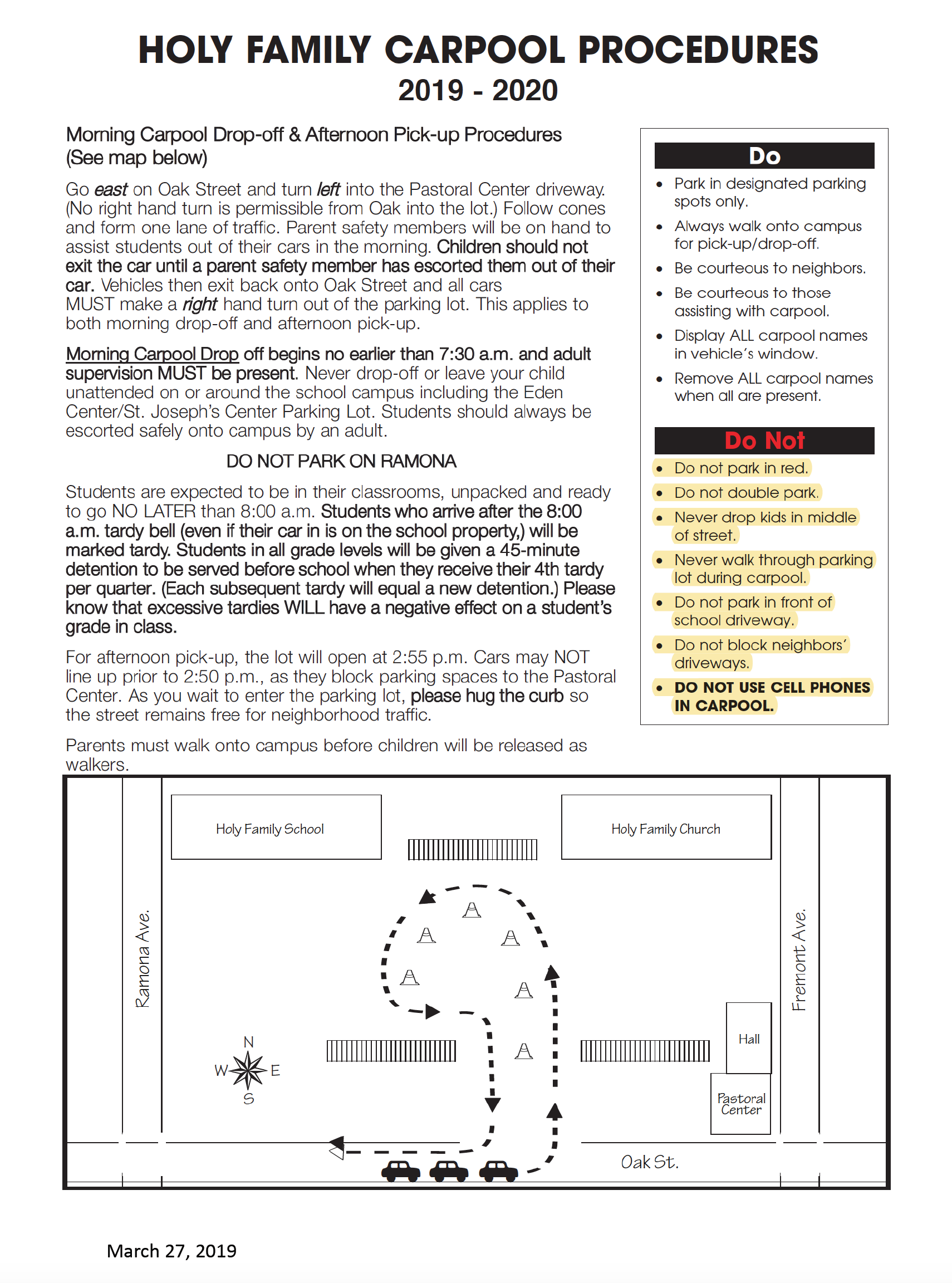 Reasons for Carpool Policy
Each family is asked to work in morning carpool to ensure the safety of our school community.  Even though many families may choose to walk their child/children into the school each morning, we still rely on all school families to make our overall morning drop off process work smoothly (and to keep our neighbors happy).
Participating in morning carpool is also an opportunity for families to get to know each other and their children, if even briefly.  Saying hello to a student in another class or a quick hello to a parent you may not know is important to developing a deeper appreciation and respect for the other families who are helping to raise our children.  In addition, it models community service to your children.
The trigger for this enforcement in carpool policy is due to the steady decline in carpool shift volunteering from all families and its negative effect on all of our children's safety.  Sufficient parent volunteers are needed every morning in order for morning drop off to run smoothly.  For this reason, no family is exempt from morning carpool duty.  Being a working family, a family who has already fulfilled their volunteer hours requirement, or a family who doesn't use the morning carpool service provided is not an acceptable excuse from morning carpool duty.
We will provide plenty of lead-time for families to make arrangements and plan ahead for their assigned dates to be factored into their schedules.  Our goal is for families to see morning carpool as a positive aspect of our school and community rather than a burden.
Please ensure that your family has looked at and is in compliance with the Safeguard the Children Requirements for Holy Family School. Every HFS volunteer must have signed, "Archdiocesan Guidelines for Interacting with Minors' Form, current Virtus Certificate and completed Live-Scan Fingerprinting and submit the required copies prior to volunteering to the school office in any capacity, including morning carpool.