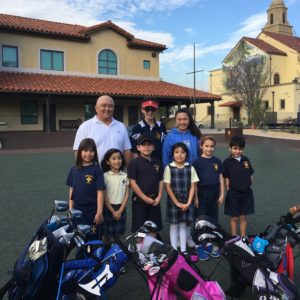 The HFS Golf Club is open to golfers of all ages and abilities.  
The Club meets on Fridays (see dates below) at
the Arroyo Seco GC in South Pasadena.  Golfers should bring
their own clubs and also money in order to purchase a basket
of range balls.  Parents of some of our younger golfers are
encouraged to also attend and join in the fun.
---
We'll see you on the course!
Sept 8, 22
Oct 8 – CYO Golf Tournament at Arroyo Seco*
Oct 13, 20, 27
Nov  17
Dec 1
Jan 2018:  5, 26
Jan 28 – CYO Golf Tournament at Heartwell*
Feb 2, 16
Mar 18 – CYO Golf Tournament at Alondra*
Mar 9, 23
Apr 20
*Must register for these events.
Please contact Coach Buzz if you'd like more info.
This slideshow requires JavaScript.