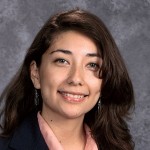 Kindergarten Teacher
bascencio@holyfamily.org
This is my fourth year at Holy Family and I am absolutely blessed to be teaching here. I have had such a wonderful learning experience working with students from grades kindergarten through twelfth grade. In addition to obtaining my California multiple subject teaching credential, I have completed over sixty hours of observation at daycares, elementary, high school, middle school and charter schools. In addition, I will complete a Master of Arts in Education: Instructional Technology and Leadership in fall, 2016. My goal is also to have a well rounded experience in all forms of education so I can apply my experiences in my own classroom. I have also had the opportunity to work with many talented and inspiring teachers who have inspired me through my teaching career.
I am very passionate about ensuring that my students will receive quality education that will allow them to reach their full potential. I absolutely love this quote by John Cotton Dana because I really believe that it is true: "Who dares to teach must never cease to learn."  I look forward in learning new things that will benefit my classroom. As time changes I like to be updated with the current methods using new technologies and strategies. My mission is to adapt to the new era of the digital age where I can have the opportunity to utilize technology to inspire student's learning, creativity and discovery. I want to design a learning experience that incorporates collaboration using digital tools. I believe that every child deserves to have quality education.