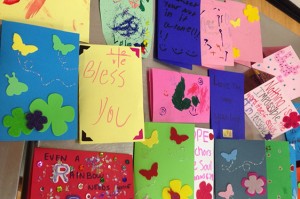 The Spirituality program provides students with an opportunity to reflect upon and enrich their own spiritual growth, and to be active in their faith through partnership with a Christian service organization. Each month, students in grades K-5 receive a Spirituality lesson that is based on two "Virtues of the Month," and includes a hands-on activity designed to provide support to the assigned Christian service organization. Additionally, a representative from each partner organization will speak about their organization's goals, services and clients to the students during Assembly. The following month, students will hear about the impact of their contribution. We hope to empower the students by educating them about local and global issues, and providing opportunities for them to practice their faith, engage with their community, and see how their actions can make a difference.
Virtues for October are Prayerfulness and Faithfulness, and our Christian Service Organization is The Giving Bank.  Students will make cards that will be included in lunches for the homeless.  Additionally, we are asking all K-5 students to bring a 16.9 oz bottled water and a small personal care item, such as hand sanitizer, lip balm, sunscreen, lotion, shampoo, a travel pack of tissues or cleansing wipes or a mini first aid kit, that will also be included in the lunches.
In addition to the monthly lessons, each class has an annual Mass and retreat with their parents. The retreat provides more time for reflection, and gives parents and students an opportunity to discuss their faith formation as a family and share with peers.
Lessons are led by trained parent volunteers and include age-appropriate activities such as small and large discussion groups, stories, prayers, games, and crafts. The Christian service activity will match the needs of the organization, and might include a book drive, prayer cards for Pastoral Care, placemats for the Ronald McDonald house, friendship bracelets for Haiti, and notecards for the Homeless.
Virtues for 2014-15
September – Friendship and Respect
October – Prayerfulness and Faith
November – Perseverance and Courage
December – Peach and Patience
January – Originality and Creativity
February – Opportunity and Charity
March – Self-Discipline and Responsibility
April – Devotion and Obedience
May – Gentleness and Comfort

Meet the Masters: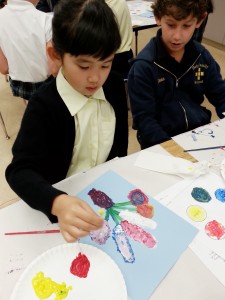 Meet the Masters is an art appreciation program that exposes students to dozens of the master artists. Each year, Holy Family students study seven different master artists. This year's artists include:
October: Paul Cezanne
November: Paul Klee
January: Gustav Klimt
February: Faith Rinngold
March: Andy Warhol
April: Pablo Picasso
May: Maria Martinez
The students learn the artists' history, their major pieces of artwork and the techniques and media the artists' utilized to create their works. Meet the Masters hopes to engage the students so they will have an understanding and an appreciation of art at an early age. It is designed to teach students how to observe art, describe the elements of art and develop perceptual and creative thinking skills. Hopefully, it will give them confidence in their own unique artistic endeavors!
This month students will study the artist Paul Cezanne, "the uncontested master of Post-Impressionism." The French artist, who was also known as the "Father of Modern Art", focused primarily on landscapes and still lifes, and simplified objects to their most geometric shapes.